China and Australia trade: Six Chinese sectors that present opportunities for Australian companies and producers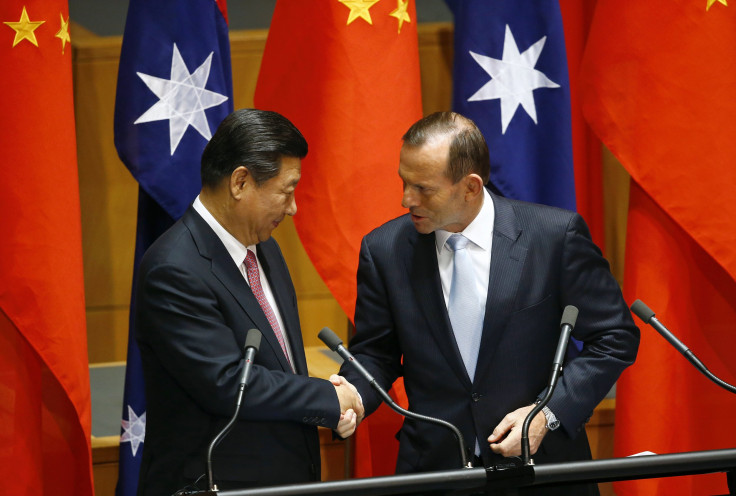 Australia's Minister for Trade and Investment Andrew Robb last week called for business leaders who want to venture into the Chinese market to join what is expected to be Australia's largest-ever trade mission in China.
The group will visit key Chinese cities for the Government's biennial trade, investment, education and tourism promotion for Australia Week in China (AWIC) 2016 in April.
The aim of the mission is to help business owners better understand the changes taking place in Australia's number one export market through innovation, agribusiness, premium food, beverage and consumer goods, urban sustainability, mining services and equipment, health, innovation, education and financial services.
"Registrations are now open and I urge all businesses with an interest in China to consider taking part," said Trade Minister Andrew Robb.
China, which is already Australia's largest trading partner, presents a huge opportunity for local businesses. With the country increasing its economic size six times in the last 20 years and a much debated slowdown that nonetheless still leaves its growth miles ahead of other economies, it is safe to say more Australian businesses will begin to take advantage of Chinese demand and the China-Australia Free Trade Agreement (ChAFTA), which entered into force last year.
"With two rounds of tariff cuts on Australian goods exports delivered already under the Agreement in rapid succession, and a whole range of new opportunities in Australian services, now is the time to expand existing links and explore new possibilities," Minister Robb said.
Apart from the sheer size and scope of its market - China has the largest population on Earth, which accounts for it buying almost a third of all exports with a total bilateral trade worth over $150 billion - the 'in' for Australian businesses will lie in the country's constraints, particularly in sectors where Chinese companies are not meeting local demands.
This is especially pertinent as China's economy expands and shifts from manufacturing to more consumption-based and services industries.
Here are six Chinese industries that are already taking off, but where local supply cannot keep up with local demand, presenting opportunities for Australian companies and producers to flourish.
1 | HEALTH
Australian household names Blackmores, Bellamy's and A2M (a2 Milk Company) will increasingly have broader international appeal with their 'health food' products, which are considered lacking within the local Chinese market.
According to Smart Company, the rapid increase of the share price of Blackmores is nearly entirely due to Chinese demand for its health supplement products.
Blackmores had also partnered with dairy company Bega Cheese in 2015 to manufacture infant formula, 20 percent of which will go directly to export markets in Asia.
According to the SMH, baby formula has been popular in China due to marketing claims that baby formula enhances brain development and health. This has led to Chinese buyers willing to pay five times the price of Australian baby formula products.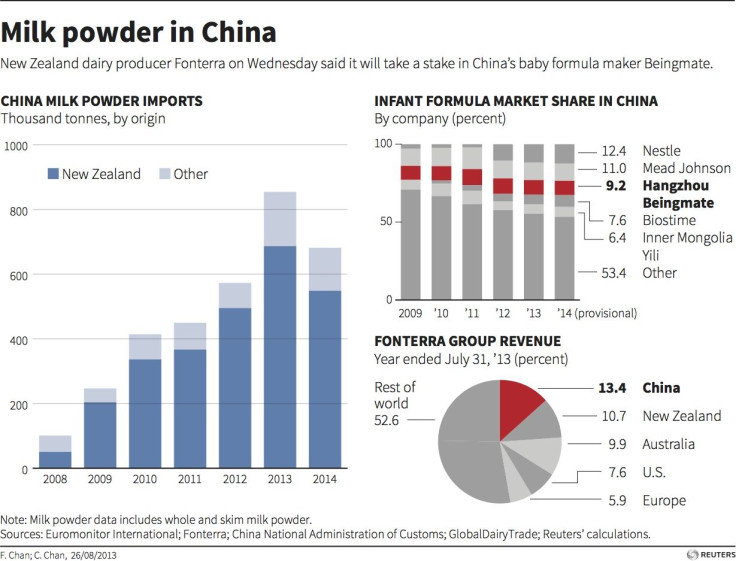 2 | AGE CARE
According to the Financial Review, 440 million people in China will be aged over 60 in 50 years.
As the rapidly aging population places a greater burden on China's government, many Australian companies will be able to tap into opportunities to thrive and profit within this sector
The Financial Review labelled this as China's grey boom, stating that Australian firms would be able to find opportunities within Chinese hospitals, age-care facilities, and even vitamins and medical equipment sectors. Developers and architecture and design firms too, could have a chance to bid for and build new facilities within the country.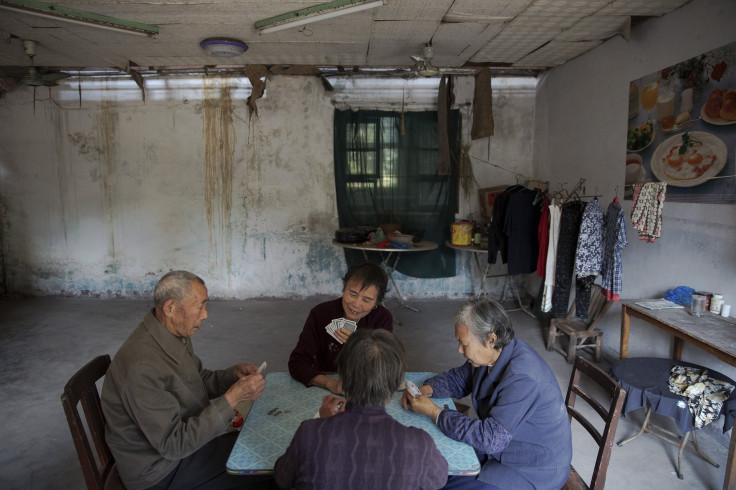 Aveo, a company for retirement villages is one of many Australian companies who will profit from China's ageing population. The company had its first Chinese venture last December - a Chinese retirement village accommodating 2, 500 residents, which is served by 600 staff across 10 hectares of 76 low rise buildings. The prices started at $525,00 for three bedroom apartments and $240,000 for studio apartments.
3 | ELECTRICITY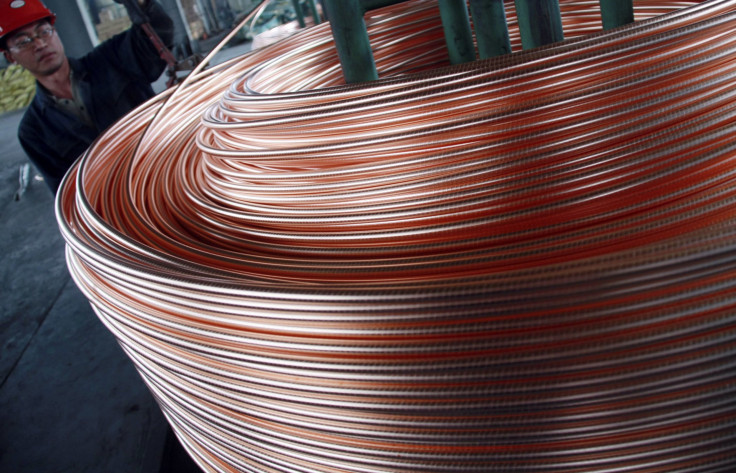 Australia's sixth-largest resource export is copper, and this could grow further as the Chinese government looks for larger import quantities of aluminum, nickel and zinc to meet domestic needs. Already, China accounts for nearly 40 percent of global copper demand.
ANZ even predicted that copper prices would increase by 26 percent by the end of 2016 to US $5,500 - largely thanks to electricity demand from China. According to Morning Money, housing construction makes up for 61 percent of China's copper demand while consumer appliance accounts for another 12 percent of copper consumption.
4 | WINE
Wine growers in Australia will benefit from growth in Chinese wine sales, particularly as demand for Australian wines soars in China due to a growing middle class who want more wine varieties to choose from and at cheaper prices.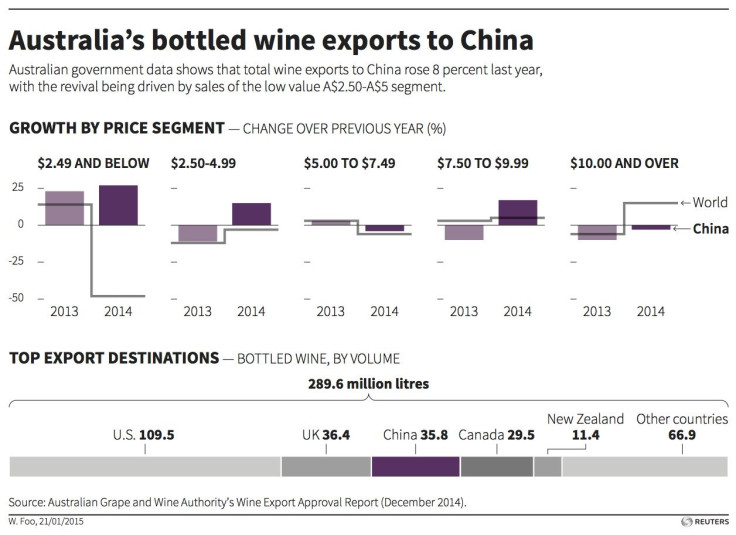 According to Wine Australia, wine exports rose to 14 per cent to $2.1 billion in 2015, with exports to China alone growing by 66 percent to about $370 million.
The biggest consumers of Australian wine are the Chinese (more than 1.2 million litres exported), followed by UK, USA, Singapore and Hong Kong.
RELATED: The China hand in Australia's wine exports - Soaring demand rakes in $2.1 billion, highest since 2007
5 | GRAIN
A study by the United States Department of Agriculture found that agriculture imports such as grain were becoming a huge demand in China due to its relative scarcity of land resources, as the country does not have the capacity to produce products that have high land requirements per unit of output.
This presents opportunities for local producers, with Hong Kong-based biotechnology company CK Life Science set to buy one of Western Australia's largest grain producers. According to Xinhua News Agency, the Chinese firm offered $24 million for Nicoletti Group, an exporter of wheat and barley.
This agreement includes Nicoletti's five farms of approximately 68, 000 hectares and storage facilities in Perth, Western Australia.
RELATED: Chinese investors heat up Australian farm sector as FTA expected to enhance investor action further
6 | RED MEAT
According to Farm Weekly, Chinese demand for beef will hit eight million tonnes by 2020 - up from the 750,000 tonnes consumed in 2015 - as more Chinese consumers want their products to be 'clean, green and traceable'.
Already in China, there is growing concern among residents about the issues surrounding the consumption of meat including animal welfare and public health, as well as the use of hormones and antibiotics in feed.
The Guardian also highlighted China's plans to clone cattle to try to meet the country's increasing demand for meat, which could lead to a series of problems such as food insecurity, ill health and greater pollution levels.
China's own domestic livestock output is limited by the rising costs of feed and forage, amongst other constraints, which could spell good news for Australian farmers.
A case in point is online premium beef retailer Sino-Australia Top Beef (SATB), which notes that it prefers 90 to 100 percent of its online beef sales in China to be sourced from Australia, according to Farm Weekly.
For Australian company Tender Plus, which exports Australian beef to Shanghai, 8 million yuan will be saved a year thanks to the China-Australia Free Trade Agreement.
"Our free trade agreement provides increased market access at a time when China itself is changing, creating demand for exactly the kind of goods and services Australia can provide," Trade Minister Andrew Robb said.
RELATED: Australian government blocks foreign sale of largest cattle farm property, cites national security concerns
MEET IBT NEWS FROM BELOW CHANNELS