'Wynonna Earp' Season 2 episode 3 spoilers: Wynonna deals with a Marzanoik in 'Gonna Getcha Good'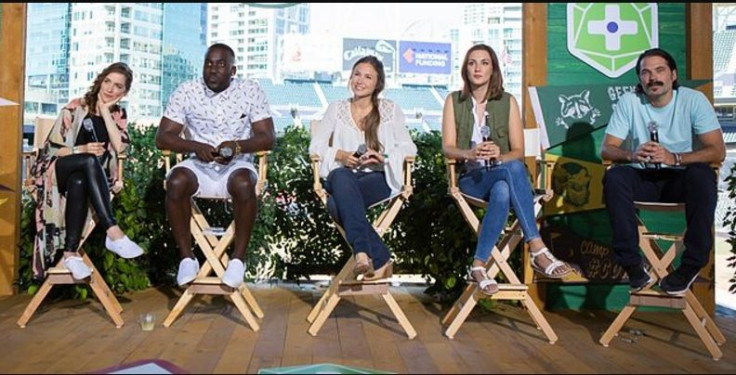 The "Wynonna Earp" cast, including Dominique Provost-Chalkley as Waverly Earp, Melanie Scrofano as Wynonna, Tim Rozon as Doc Holliday and Shamier Anderson as Deputy Marshal Xavier Dolls, will have a new episode titled "Gonna Getcha Good," which airs on Syfy on Friday, June 23. It will feature a creature called a Marzanoik, which the lead heroine must deal with. Read on to learn more about it.
Spoiler alert: This article contains more 'Wynonna Earp' spoilers. Read on only if you want to know more about what happens in 'Gonna Getcha Good.'
TV Guide reports that in "Wynonna Earp" Season 2, episode 3, Wynonna will deal with an angry Marzanoik. It is a creature similar to an evil genie. Meanwhile, Doc will try to help out a friend. According to the Syfy website, Wynonna and her old friend Mercedes Gardner (Dani Kind) will talk about breakdowns and the boys in their lives.
Several promotional photos were posted on The Promotional Photos Palace's YouTube channel showing scenes featuring the characters of the show. It includes a kissing scene between Waverly and her girlfriend Nicole (Katherine Barrell). Plus, Wynonna is seen pointing Wyatt's "Peacemaker" handgun towards something or someone. Another scene shows Doc talking to a woman, who is presumably the friend he'll help in this episode.
'Gonna Getcha Good' guest stars
According to the Internet Movie Database (IMDb), Tamara Duarte (Rosita Bustillos) and Varun Saranga (Jeremy Chetri) will appear in this episode as guest stars. They will be joined by Tyler Reinhold (Bryce Cooper). This episode was written by Brendon Yorke and directed by Ron Murphy.
'Wynonna Earp' recap:
The episode before "Gonna Getcha Good" was "Shed Your Skin," which aired on June 16. It was directed by Brett Sullivan and written by Alexandra Zarowny. It shows Waverly and Wynonna dealing with creatures that looked like spiders while they were investigating a case that involved missing persons. Aside from these monsters, they also had to fight some figures that appear like ghosts. Elsewhere, Doc went about with his own mission and agenda. He ended up buying Shorty's (Peter Skagen) Saloon.
"Wynonna Earp" episodes air on Fridays at 10/9c on Syfy in the US. The episodes after "Gonna Getcha Good" are "She Ain't Right," which airs on June 30 and "Let's Pretend We're Strangers," which will air on July 7. After that, the episode titled "Whiskey Lullaby" will air on July 14. Then, the following episodes will be aired on Syfy: "Everybody Knows," "No Future in the Past," "Forever Mine Nevermind," "I See a Darkness," "Gone as a Girl Can Get" and "I Hope You Dance."
In case you missed it (ICYMI), read this:
'Wynonna Earp' Season 2 episode 2 spoilers: Wynonna battles spider creatures in 'Shed Your Skin' [VIDEOS]
MEET IBT NEWS FROM BELOW CHANNELS