'The Voice Australia' 2017, season 6, episode 10 recap: Taylah Harrington, Jesse Tolo-Paepae, Darcy Thornton in [VIDEOS]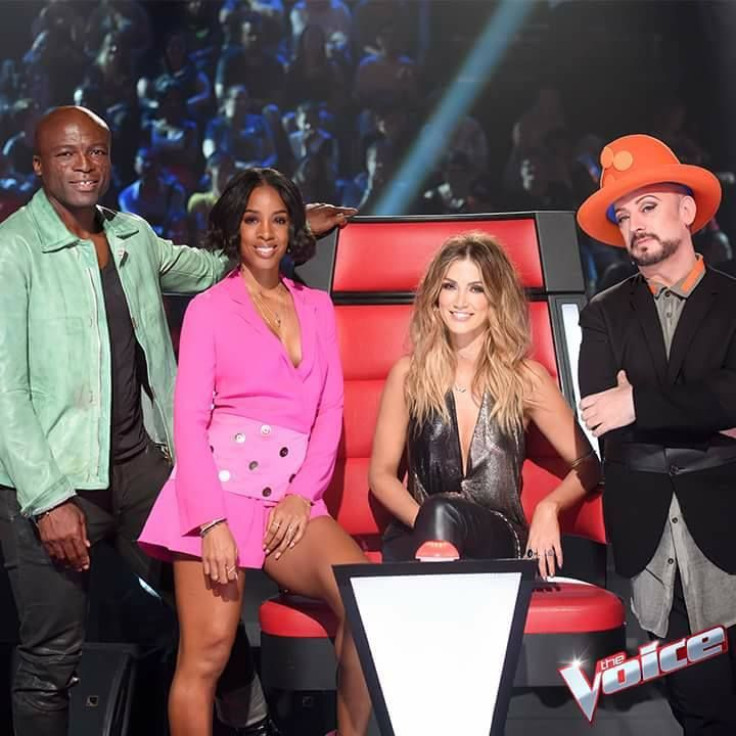 "The Voice Australia" 2017 season 6 episode 10 kicked off with 17-year-old Taylah Harrington. The teenager was born in a circus, where her dad works as a clown. When she performed Cher's hit song "Believe" in her own slow way, coaches Boy George and Kelly Rowland turned their chairs. Seal and George began teasing each other afterwards, with George complaining about Seal passing on the young singer.
"I'm surprised not more people turned," said George, pointing at his co-judge. "Consider yourself told off." In the end, Taylah chose to be on Team George.
Next on the stage was Jesse Tolo-Paepae, who won "The X Factor Australia" in 2007 as one of the members of the band Random. Tolo-Paepae is, however, not happy with the way his career is moving, so he decided to try his luck on "The Voice." The 33-year-year father belted out Ray Charles' classic "I Got A Woman," impressing both Seal and George. However, the singer ultimately chose Seal.
The next contestant was a global performer who has been singing since she was 9 years old. Bridget O'Shannessy, 17, confessed that she is still nervous performing on stage. "My audition song has a larger range than I actually thought it did," she told everyone after belting out the ABBA anthem "Dancing Queen." Sadly, none of the coaches had turned their chairs.
The competition then became tight, with only two coaches left with one spot each. Up next was 16-year-old Darcy Thornton, who impressed Delta Goodrem with Katy Perry's "Part of Me." However, Team Delta was already fully occupied, so it was George who took her into his team as the final contestant. "My mum loves you," said Thornton, who also requested for a selfie.
With only one spot left in Team Kelly, the competition got tougher. Sharin Attamimi came next, taking on Nina Simone's "Feeling Good." She was so amazing that all coaches requested Rowland to press the buzzer. But the coach was in no hurry. She passed on Attamimi for now, telling the contestant that she should try her luck next time. Next up was Ruva Ngwenya, a 24-year-old theatre performer. She impressed Rowland with Adele's "Hello," bagging the final spot in Team Kelly.
With the Blind Auditions finally over, the Knockouts Round on "The Voice Australia" 2017 is up next. Meanwhile, let's take a look at the coaches' final line-ups below:
Team DELTA
Claire Howell
Tim Conlon
Fasika Ayallew
Sean and Molly
Joel and Leeroy
Judah Kelly
Kelly Read
Gracie Laing
Anthony Sharpe
Nathan Kneen
Rachael Noakes
Kelsey Rimmer
Team SEAL
Berni Harrison
Arthur Bristowe
Annalisse Walker
Brooke Schubert
Sam Hale
Lucy Sugerman
Russel Francis
Rennie Adams
Ruby Jo
Liz Conde
Nara Nakhle
Jesse Tolo-Paepae
Team GEORGE
Robin Johnson
Hoseah Partsch
Benjamin Caldwell
Sally Skelton
Brittannia Clifford-Pugh
Sarah Stone
Lyn Bowtell
Jesse Dutlow
James Banks
Ellis Hall
Taylah Harrington
Darcy Thornton
Team KELLY
Gemma Lyon
Bojesse Pigram
Michelle Mutyora
Camryn Jordans
Tommy Harris
Lewis Ciavarella
Russ Walker
Chloe Kandetzki
He Planned Us
Ruva Ngwenya
MEET IBT NEWS FROM BELOW CHANNELS