'The Voice Australia' 2017 season 6, episode 9 recap: Lara Nakhle, Liz Conde, Ellie Hall, He Planned Us impress [VIDEOS]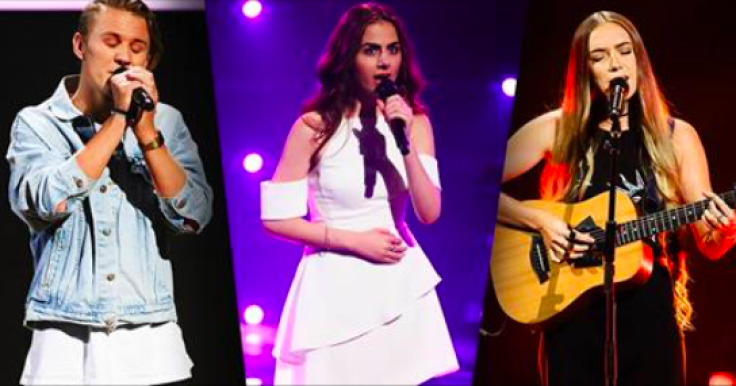 "The Voice Australia" 2017, season 6, episode 9 kicked off with an emotional performance by blind contestant Lara Nakhle on Sunday. The 19-year-old sang was wanted by both Kelly Rowland and Seal, but only one of them won her heart.
She sang Randy Newman's classic song "Feels Like Home," and Seal quickly turned his chair. Rowland pressed her buzzer next and argued with Seal to have Nakhle in her team. But Lara chose him over Rowland.
"Everybody needs a piece of Lara's spirit. She is courageous, she is talented, but I love her spirit above everything," a clearly unhappy Rowland told the audience about how desperately she wanted her in her team and why.
Next up was a group performance by a trio: two sisters and a cousin who believed they are bound to be a popular girl band because of their talent. The He Planned Us band impressed the judges with "Joyful, Joyful" by Lauren Hill, and Rowland quickly turned her chair saying she just "loved the idea of three voices." Delta Goodrem loved the girls but she was honest about the fact that Rowland would be a better mentor to the girls, given her experience with Destiny's Child.
"It would be criminal of me to say I'd be the best coach in this situation, I wouldn't be," Goodrem said. The trio then chose Team Rowland, thus making the number of people in her team to be 11. She now only had one spot left. Same was the case with Goodrem, who also had 11 contestants in her team.
Sixteen-year-old Ayden Calafiore next performed "Say You Won't Let Go" by James Arthur. Despite his honest performance and impressive voice quality, he failed to turn any chairs from the judges. However, when he was about to leave the stage, Goodrem told him that she was sorry that she did not turn for him.
Seal's birthday was also celebrated on the show, and to everyone's surprise, a "vegan, sugar-free cake" was carried and taken care of none other than Boy George. Given the number of arguments the two had in the previous episodes, it looked like the cake gesture from George was a game changer. Seal was grinning from ear to ear when he saw George and other fellow coaches sing "Happy Birthday" to him.
A contestant named Thomas Stowers next sang "Master Blaster" by Stevie Wonder but failed to impress any judges. He went home after lifting Seal up in his arms. Next on stage was Ellie Hall, who sang "Free Fallin" by Tom Petty. George was in awe of him and turned his chair first and took Hall in his team as the tenth contestant.
University student Liz Conde sang Whitney Houston's greatest hit "I Will Always Love You," and Seal couldn't help but admire her singing. He turned his chair within a few seconds and took Conde in his team. However, Goodrem did not seem impressed and expressed that openly. "Everything about that was my least favourite audition," Goodrem said about Conde's audition.
Ex-"The Voice" contestant Kelsey Rimmer performed Matt Corby's song "Monday" next. Rimmer, who was on Team Keith Urban last year, lost in the Battle Rounds then, but this time had three judges — Goodrem, Rowland and Seal — on her side. However, Rimmer chose to be on Team Delta, thus making her team complete. She is the twelfth and the final contestant of Goodrem's team.
Tune in for the recap of "The Voice Australia" 2017, season 6, episode 1o, on Tuesday. It will mark as the last night of Blind Auditions. Meanwhile, check out the few winning performances below.
MEET IBT NEWS FROM BELOW CHANNELS