Shuttle XH110G barebone PC has PCIe x16 slot in its 3-litre frame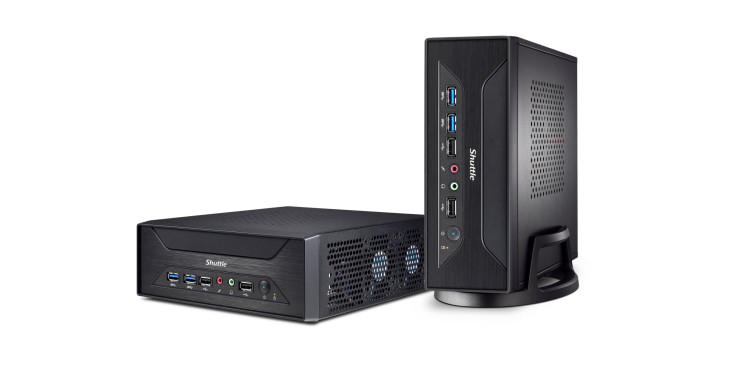 Barebone enthusiast Shuttle has launched the XH110G slim PC. The machine packs a fully-fledged PCI Express x16 3.0 slot in a 3-litre chassis. The slightly over 3-inch high mini desktop delivers a plethora of options for a small form factor system and is currently available to purchase worldwide.
The Shuttle XH110G has a 25 cm x 20 cm x 7.85 cm (9.84 in x 7.87 in x 3.09 in) frame. The PC's mainboard paired with an Intel H110 chipset can support up to 32 GB of DDR4 RAM and Intel LGA 1151 processors with up to 65 W of TDP. It comes with two M.2 slots – an M.2-2230 and an M.2-2280 – for added convenience.
Shuttle's latest XPC houses a full-sized PCI Express x16 3.0 slot, ideal for graphics cards or expansion cards with a x1 x16 connector for further flexibility. The machine's frame has been subtly modified on different ends to generate adequate space. The chassis cover now has ventilation openings while the bottom portion of the PC can accommodate a 2.5 inch hard disk or SSD and is accessible via a separate hatch.
The barebone computer has a plethora of ports and slots available, including a VGA port, an HDMI port, a couple of USB 3.0 ports and six USB 2.0 ports. Making sure that the system has enough juice to back up its most beefed up configuration is the 180 Watt external power supply unit. Also included is an active heatpipe cooling solution with a pair of discreet 6-centimetre fans, which works whether the PC is flat or upright. The box likewise comes with a VESA mount, although a proper stand is sold separately.
"Not only PC gamers will be interested in the fact that here, it is even possible to combine an Nvidia GeForce GTX 1050 Ti graphics card with a Core i7 processor and 32 GB of RAM," according to Shuttle Computer Handels GmbH's Tom Seiffert. "The XH110G also makes multi-display scenarios a reality or has the room for just the required expansion for a special project."
The Shuttle XH110G is now available to purchase globally, and sells for around €280 in Europe (including taxes) and AU$399 in Australia. In the US, the barebone PC starts at US$1,070 (AU$1,356).
Shuttle XH110G tech specs
Chassis
Slim X-type chassis, colour: black
Dimensions: 250 x 200 x 78.5 mm (LWH)
Weight: 1.9 kg net, 3.0 kg gross
Open front - no concealed front panel connectors
Hole for Kensington Lock at the back panel
Operation Position
(1) horizontal on its feed
(2) vertical with the optional stand (Accessory PS01)
(3) vertical with the supplied VESA mount bracket
Operation System
This system comes without operating system.
It is compatible with Windows 10 / 8.1 / 7 and Linux (64-bit).
Note: Windows 7 and 8.1 is only supported in combination with the 6th generation Intel Core "Skylake" processors.
Mainboard, Chipset and BIOS
Mainboard FH110G, form factor 17 x 19 cm
Chipset: Intel H110 Chipset (Intel GL82H110 PCH, codename "Sunrise Point")
AMI BIOS in 8 MB EEPROM with SPI interface
All capacitors are high quality solid capacitors
Supports hardware monitoring and watch dog functionality
Supports Unified Extensible Firmware Interface (UEFI)
Supports power-on-after-power-fail
Power Adapter
External 180 W power adapter (fanless)
Input: 100~240 V AC, 50~60 Hz, max. 2.5 A
Output: 19.5 V DC, max. 9.23 A, max. 180 W output wattage
AC Connector with protective-earth contacts, cable length: 1.7 m
DC Connector: 5.5 / 2.5 mm (outer/inner diameter)
Dimensions: ca. 167 x 82 x 25.5 mm = 350 ml
Power Adapter
Socket LGA 1151 (H4) supports Intel Core i7 / i5 / i3, Pentium and Celeron processors
Maximum supported processor power consumption (TDP) = 65 W
14 nm process technology, up to 8 MB of L3 cache
Not compatible with Intel Xeon E3 V5 processors for socket LGA 1151 and processors with the older Socket LGA 1150.
Does not support the unlock function of Intel K-Series processors.
6th generation, code name "Skylake" (6000 series)
7th generation, code name "Kaby Lake" (7000 series)
Processor Heatpipe Cooling
Processor cooling with heatpipe technology and two fans (60 mm)
Memory support
2x 260-pin SO-DIMM slot
Supports DDR4-2133/2400 (PC4-17000/19200) SDRAM at 1.2 V
Supports Dual Channel mode
Supports a maximum of 16 GB per DIMM,
Maximum total capacity: 32 GB
Supports two unbuffered DIMM modules (no ECC or registered)
PCIe Expansion Slot
1x PCI-Express X16 v3.0 slot with installed 90-degree Riser Card
The used expansion card must meet the following conditions:
Maximum dimensions: 208.5 mm x 120 mm x 30 mm (Single Slot)
Maximum power consumption: 75 W
Integrated Graphics
The features of the integrated Intel HD graphics function depend on the processor type used.Supports DirectX 12, OGL 5.x, OCL 2.x
The PC features the following video outputs:
Supports two independent displays simultaneously
HDMI supports 7.1 multi-channel digital audio over the same cable
Maximum shared memory of 1760 MB
(1) HDMI 1.4 (supports 1080p/60 and 2160p/30)
(2) VGA / 15-pin D-Sub (supports analog video)
Audio Function
Audio Realtek ALC 662 High-Definition Audio
Two analogue audio connectors (3.5 mm) at the front panel:
(1) Microphone input
(2) Headphones output (Line out)
Digital 7.1 audio output: is possible via the HDMI port
Gigabit LAN Controller
Intel i211 network controller
Supports 10 / 100 / 1.000 MBit/s operation
Supports WAKE ON LAN (WOL)
Supports network boot by Preboot eXecution Environment (PXE)
2.5" Storage Bay
This system features one 2.5" drive bay which is accessible from the bottom of the housing.
It supports one 2.5" / 6.35 cm hard disk or SSD with maximum 9.5 mm height.
The system includes a pre-installed data/power cable.
The connector supports SATA III with maximum 6 Gbps.
M.2-2280 M Slot
The M.2 2280 M slot provides the following interfaces:
It supports M.2 cards with a width of 22 mm and a length of 42, 60 or 80 mm (type 2242, 2260, 2280) and
M.2 SSDs with SATA or PCIe interface.
PCI-Express v2.0 X4
SATA v3.0 (6 Gbps)
M.2-2230 AE Slot
The M.2 2230 AE slot has the following interfaces:
It supports M.2 cards with a width of 22 mm and a length of 30 mm. This slot is intended for Wireless LAN (Wifi), Bluetooth, GSM/UMTS cards and other. A SATA interface for SSD cards is not available here.
PCI-Express v2.0 X1
USB 2.0
Internal USB Port
This system features one internal USB port which is located behind the bottom cover of this PC.
Connector: USB 2.0 Type A
Maximum permitted size of the USB stick: 11.5 mm x 28 mm x 88 mm
Front Panel connectors
1x Microphone input (3.5 mm)
1x Headphones output (3.5 mm, line out)
2x USB 3.0
2x USB 2.0
1x Power button with Power LED (blue)
1x HDD LED (yellow)
Back Panel connectors
1x HDMI 1.4 digital audio/video output, supports screw lock
1x VGA / D-Sub analogue video output
4x USB 2.0
1x GigaBit LAN (RJ45)
1x Clear CMOS Button
2x Perforation for Wireless LAN antennas
1x Hole for Kensington Lock
Other on-board connectors
Power-on-after-power-fail (hardware solution by jumper)
4x front connector for power button, LEDs, USBs, audio ports
4-pin fan connectors (occupied by the CPU cooling system)
4-pin USB 2.0 connector (occupied by the internal USB port)
2-pin connector for the CMOS/RTC battery (occupied)
2x 5-pin debug port
Supplied Accessories
Multi-language installation guide (EN, DE, FR, ES, JP, KR, SC, TC)
Driver DVD
Bracket for one 2.5" drive with screws
External power adapter with 1.7 m power cord
VESA mount bracket (metal) supports 75x75 and 100x100 mm standard with four screws M4x10
Protector cap for the CPU socket (do not use if heat-pipe or fan is mounted)
CPU heatpipe cooling system with heatsink compound
Optional Accessory
(1) Vertical stand (PS01)
(2) WLAN module (WLN-M)
Environmental Specifications
Operating temperature range: 0~50 degrees C
Relative humidity range: 10~90 percent (non-condensing)
Conformity and Certifications
EMI: FCC, CE, BSMI, C-Tick
Safety: ETL, CB, BSMI
Other: RoHS, Energy Star 5.0, ErP
This device is classed as a technical information equipment (ITE) in class B and is intended for use in living room and office. The CE-mark approves the conformity by the EU directives:
(1) 2004/108/EC relating to electromagnetic compatibility (EMC),
(2) 2006/95/EC relating to Electrical Equipment designed for use within certain voltage limits (LVD),
(3) 2009/125/EC relating to ecodesign requirements for energy-related products (ErP)
MEET IBT NEWS FROM BELOW CHANNELS