Reporter's dramatic eyeroll at fellow journalist goes viral, gets censored in China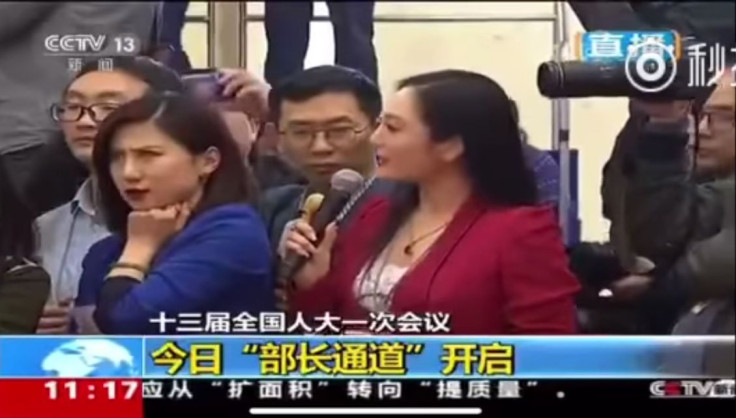 Two reporters at China's annual parliamentary meeting, "Two Sessions," have caused a social media storm after one of them dramatically rolled her eyes while the other was delivering her long-winded question. The filmed incident has become so popular in the country that censors had to hide it from the public's online searches.
On Tuesday at the media conference of the 13th National People's Congress, a reporter from US-based news media channel AMTV was given the chance to ask a question about President Xi Jinping's investment project, the Belt and Road Initiative. Journalists were expected to ask concise questions, but reporter Zhang Huijun posed hers in a drawn-out, loquacious manner, earning a dramatic eye-roll and disdainful look from the reporter next to her.
Liang Xiangyi (wearing a blue suit) from the Chinese finance news service Yicai Media appeared so annoyed at Zhang (wearing red in the video clip below) that she was rolling her eyes and giving Zhang incredulous looks. Liang's expressions were caught on camera, which quickly became viral online.
YouTube/Cao Nima
The whole press conference was controlled and highly staged, with only pre-selected journalists allowed to ask initially reviewed questions. There were rare events when a foreign reporter gets away with a challenging question, but this was not one of those moments.
And as such, NPC meetings tend to be boring and uninteresting. Zhang apparently did not help matters with her lengthy and overly flattering question.
According to screenshots captured by WhatsOnWeibo.com, the popularity of the video reached the attention of both reporters. Zhang and a friend's WeChat conversation made it online, with Zhang reportedly commenting, "What the heck was she doing looking at me like that?!"
Liang's Yicai chat group also leaked online. When one of her colleagues said the moment was broadcasted live, she reportedly replied, "Because the woman next to me was being an idiot."
Liang's name and the search term "question-asking bi---" trended on Weibo, China's micro-blogging service. But as the clip become so popular that people started re-enacting the scene and creating parodies of it, Weibo suddenly blocked the searches for Liang and "question-asking bi----." Searches for the terms on Weibo result will bring up a message that reads, "According to relevant laws and policies, results for this search can't be shown."
According to unverified reports, Liang had been reprimanded by her network and stripped off her press pass. As for Zhang, her status as a "foreign journalist" was questioned by social media snoops, who claimed she pretended to be an outsider but was allegedly from China.
MEET IBT NEWS FROM BELOW CHANNELS