'Plants vs. Zombies Garden Warfare 2' dev reveals sneak peek of 12 new maps, trophy list leaked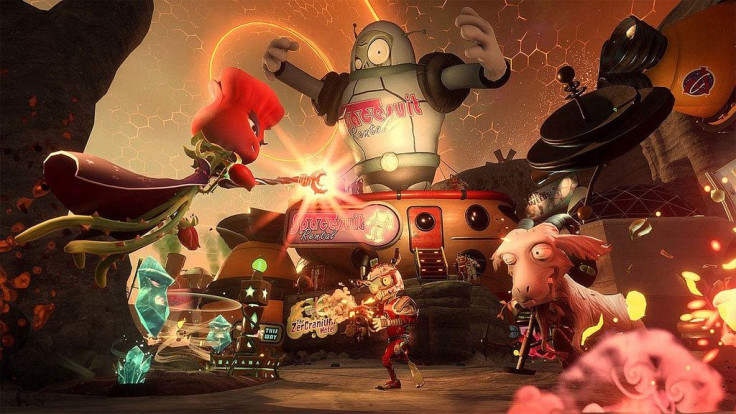 Since the release of the original "Plants vs. Zombies Garden Warfare," a lot has happened with the plants as well as Dr. Zomboss. For the sequel, developer PopCap has promised that the team has ensured more characters and more awesome maps for a bigger, badder experience for "Plants vs. Zombies Garden Warfare 2."
Over at the PlayStation Blog, the developer has showcased the 12 new maps coming to the game. The video below shows glimpses of the new maps, and it features a wide array of environments spanning different locations and periods.
Like us on Facebook
The Great White North sees snow all over the map in what appears to be a village up top. Players can make use of the height differences of house and mountains to get a good footing for defense or offense. Zen Peak looks set in an Asian area, with olden castles and temple structures. Boney Island appears almost prehistoric in that it's set in the ridge-like area, with bone protrusions of what could be mammoths and other prehistoric animals.
Lunar Landing transports players into space, with spaceships and structures giving a more futuristic vibe. Sandy Sands brings players to the Egyptian side of the world, with tombs, pyramids and other mummified themes.
Other maps include Time Park, Zomburbia, Colizeum, Ztech Factory, Frosty Creek, Moon Base Z and Seeds of Time.
"The maps in 'Plants vs. Zombies Garden Warfare 2' received an incredible attention to details, each sporting great gameplay mechanics, hidden secrets and easter eggs," said "Plants vs. Zombies Garden Warfare 2" producer Kyle Duncan.
A list of trophies has also been released ahead of the release date for "Plants vs. Zombies Garden Warfare 2." PlayStation Lifestyle has the screenshots featuring the complete list of trophies.
There are some interesting trophies that makes use of both the offensive and defensive stance that players can take in the game. Rinsed 'Em will require vanquishing 5,000 zombies, while Gramma Z Says… requires vanquishing 5,000 plants.
The much-hyped Z-Mech robot will also be required to complete the trophies, as the Stomp the Yard trophy requires vanquishing 50 plants using the Z-Mech's Robo Stomp. Additionally, the trophies also dabble in multiplayer Backyard Battleground and solo ops. One trophy, VIPs Only, requires the player to have a private match featuring the player's own custom rules.
Other trophies require completing missions and stages, including The Bean Situation, Yuck, Steve-cation, Strong Coffee and Gold Rush. A couple of trophies will also require players to defeat the different Gnome Kings, plus Gnoms, the ultimate Gnome King. Of course, the Platinum trophy can be earned by obtaining all of the trophies.
Those who have been playing "Plants vs. Zombies Garden Warfare" will receive a special loyalty reward. EA revealed via the official PvZ blog that player so of the original title will be able to port over all of the unlocked items and special rewards based on the achieved rank in the original game. "Plants vs. Zombies Garden Warfare 2" will be released on Feb. 23 to the PS4, Xbox One and PC.
"Plants vs. Zombies Garden Warfare 2" new maps trailer (Credit: YouTube/PlayStation)
MEET IBT NEWS FROM BELOW CHANNELS