'Outlander' TV Series: Author Diana Gabaldon visits the set; Extended video clip from 'The Reckoning' released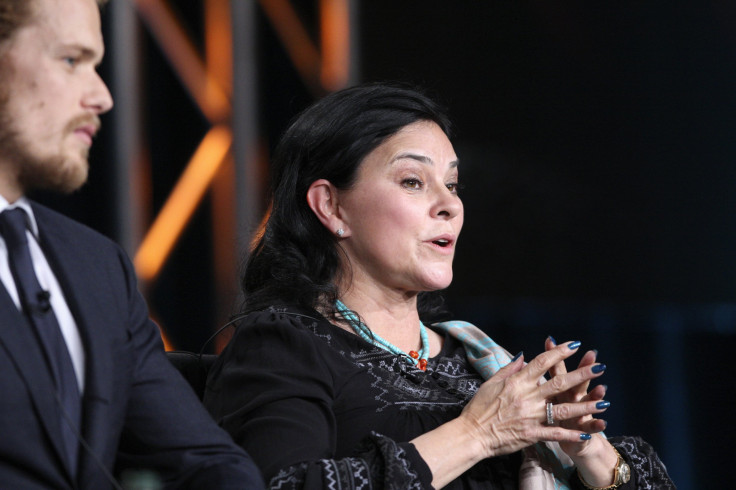 Diana Gabaldon, the author of the "Outlander" book series, got a warm reception by the crew when she visited one of the production sets of the show. Sony Pictures Entertainment has released two new videos of the popular TV series online and one of them shows the author visiting the "great hall" set.
Executive producer Ronald D. Moore took Gabaldon around the production set of the first season of the show. A new video posted on the YouTube channel of Sony Pictures Entertainment shows the author visiting the set at a time when the cast and crew were rehearsing the scene of the oath taking at the great gathering in the Castle Leoch set.
Moore said that it was great to have the author on the set and pointed out that everyone was "on their best behaviour" that day. The producer took a moment of the crew's time to introduce them to Gabaldon and the author was greeted with lots of smiles and applause.
Gabaldon spent her time taking pictures with the crew of the show and the crew members also explained some of the aspects of the show to her. The author had a cameo appearance in one of the episodes in "Outlander" Season 1 and Gabaldon can be seen in her costume in the video.
The author revealed that she spent about 10 days exploring some of the production sets and the offices that were used for the show. Gabaldon said that she was "amazed" to find out about the number of people who worked for the show and she also got to meet the Gaelic language experts who have their own section in the office.
Sony has also released a video showing an extended clip from "The Reckoning" episode of the "Outlander" TV series. The clip shows Jamie Fraser (Sam Heughan) and Claire (Caitriona Balfe) feeling angry at the other Scotsmen who did not approve of their marriage. Jamie points out that Colum (Gary Lewis) didn't raise a single toast to celebrate the arrival of the new couple and Claire tells her husband that he is not the only one who disapproves of their marriage.
MEET IBT NEWS FROM BELOW CHANNELS