'F1 2016' dev announces game with expanded Career Mode, new circuit and virtual safety car, showcases box art and screenshots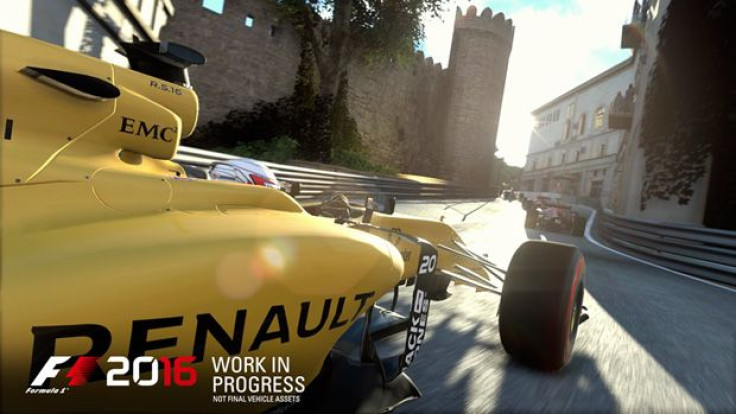 Developer Codemasters has already announced that "F1 2016" is coming this year, in light of the Monaco Grand Prix. Coming to the PS4, Xbox One and PC, "F1 2016" has a few tricks up its sleeve as an improvement to its predecessor.
In a press release, the developer confirmed that there will be a new career mode. The mode will let players choose an avatar that will represent them in the game world. They can also choose from any of the Formula One teams, earn contracts, move between teams and developer a team that could be a contender in the championship.
"'F1 2016' is a massive step forward for the franchise. The new career mode sits at the heart of the game and allows gamers to create their own legend over a career that can span for up to a massive ten seasons," said Codemasters Principal Games Designer Lee Mather.
" Beyond improving upon the fastest and most thrilling on-track racing experience in gaming, F1 2016 uniquely offers the drama and vehicle development that goes on behind the scenes. A rich car upgrade system is fully integrated into a new and deep practice development programme which mirrors the tests carried out by the teams in real life."
There will be a game hub that acts as a hospitality area for each of the teams. From here, players can work with the R&D Engineer and Player Agent, so that progress can be developed both on and off track. Credits can be earned from the session with R&D, from practice, qualifying and races, upgrading the car and being ahead of the competition.
Additionally, Codemasters teased that it will be re-introducing the Safety Car as well as the inclusion of the Virtual Safety Car. There will also be a new street circuit in Baku, Azerbaijan.
Over at Codemasters' blog, there are already a few early screenshots shared featuring some of the cars and circuits. One shot even shows rain shower, hinting at weather cycles and dynamics. The boxart is also already featured in the blog.
MEET IBT NEWS FROM BELOW CHANNELS