China Strengthening Ties With Thailand? Beijing's J-10 Fighters Join 'Falcon Strike 2023'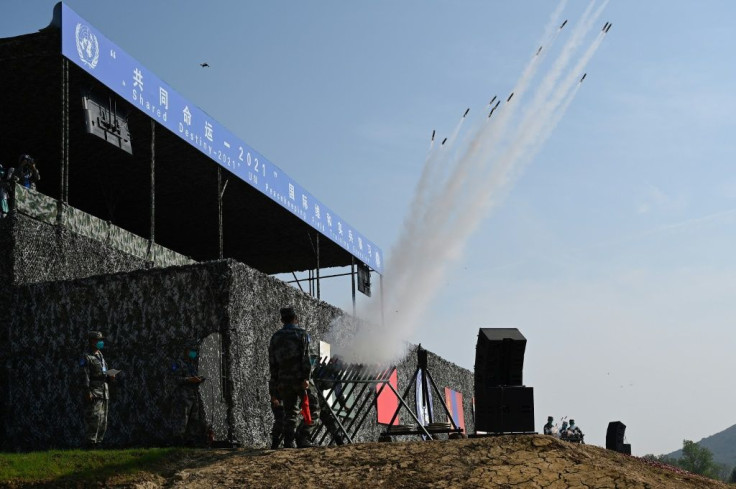 KEY POINTS
China, Thailand are conducting joint air combat exercise to promote "regional peace"
People's Liberation Army aircraft, including advanced fighters, are participating in "Falcon Strike 2023" drills
China aims to strengthen military ties with Southeast Asian nations as it engages in various joint exercises
China and Thailand initiated their yearly joint air combat exercise on July 9 with the aim of enhancing military cooperation and promoting "regional peace and stability."
Chinese media reported the joint air combat exercise between China and Thailand involved training activities focused on joint air defense, air support, and large-scale deployments.
The exercises commenced with an opening ceremony at the Udorn Royal Thai Air Force Base, which was located approximately 19 miles from Bangkok and less than 30 miles from the Gulf of Thailand.
Earlier this month, the Chinese Ministry of Defense had made an announcement regarding the military drills in Thailand, known as "Falcon Strike 2023," saying these exercises would witness the participation of various People's Liberation Army aircraft, including fighter jets, bombers, airborne early warning aircraft, and ground-to-air missile installations.
The annual drill, which has been conducted since 2015, experienced substantial involvement from China in 2022. China deployed its advanced aircraft lineup, which featured the JH-7A fighter bomber, Shaanxi KJ-500 early warning and control aircraft, and six Chengdu J-10 C/S fighters. This participation represented the most technologically advanced engagement in the history of the exercise.
While the specific aircraft lineup for this year's exercise has not been disclosed by the Defense Ministry, there are reports indicating the potential participation of aircraft, such as the J-10, JH-7A, and KJ-500 airborne early warning aircraft. However, the exact number of aircraft involved in the exercise remains unknown.
Chen Jun, the commander of the Chinese troops, stated the joint training adheres to the principles of mutual benefit and focuses on real and practical combat training. He emphasized the exercise will further enhance the training level of both the Chinese and Thai air forces.
Boripat Ratchaneepun, an officer from the Thai air force's directorate of operations, highlighted the joint drill aims to foster mutual trust and friendship between the air forces of Thailand and China, Eurasian Times reported.
China has indeed been actively working to strengthen its military ties with Southeast Asian countries, particularly as both Beijing and the United States increase their military presence in the region.
China's efforts to enhance military cooperation in Southeast Asia have been evident through a range of activities. In March, China held its first naval drills with Cambodia, a close ally in the region. Furthermore, Beijing conducted military exercises with Singapore and Laos in May, showcasing its commitment to fostering stronger military ties with these nations.
© Copyright IBTimes 2023. All rights reserved.
MEET IBT NEWS FROM BELOW CHANNELS