'Brooklyn Nine-Nine' season 4, episode 21 spoilers, recap: Jake and Rosa are in a predicament on 'The Bank Job'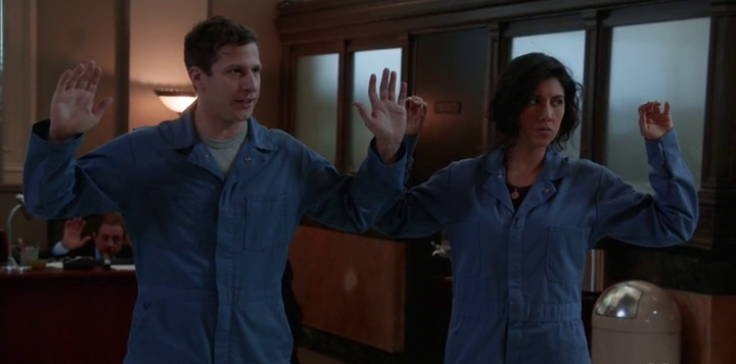 On "Brooklyn Nine-Nine" season 4 episode 21, Jake (Andy Samberg) and Rosa (Stephanie Beatriz) find out more about their idol. Meanwhile, Amy (Melissa Fumero), Terry (Terry Crews) and Charles (Joe Lo Truglio) try to figure out what's going on with Gina (Chelsea Peretti) on "The Bank Job."
Spoiler alert: This recap contains plot details about season 4 of "Brooklyn Nine-Nine." The fourth season premiered Sept. 20. The series is available for Australian viewers to watch on SBS every Wednesday at 8:00 p.m.
Terry, Amy and Charles notice that Gina has been frequently going out during working hours over the last few days. They suspect that she's pregnant, and they get even more suspicious when they find out about Gina's list of baby names in her computer. Charles is unable to contain himself and later confronts Gina, who admits to being with child.
Gina hints that a Boyle is the baby daddy. Charles is excited at first, but gets disappointed when he finds out that his cousin Milton (Ryan Phillippe) is the one who got Gina pregnant. Milton, a professional snowboarder, arrives at the precinct to take Gina out to dinner. Charles belittles him, which baffles Amy and Terry as Milton is not only successful at what he does, he's also good-looking compared to the other Boyle cousins.
Meanwhile, Jake and Rosa tell Holt (Andre Braugher) about Lieutenant Hawkins (Gina Gershon) and her crooked ways. The captain advises his two officers to solidify their claim with adequate evidence as Hawkins is one of the most revered detectives in the NYPD. They enlist the help of Rosa's fiancé, Adrian Pimento (Jason Mantzoukas), to guide them through their "dirty" transformation.
Jake and Rosa fake beat Pimento at the Slaughterhouse, much to the admiration of Hawkins. The lieutenant then invites Jake and Rosa for a drinks-and-drugs session to cap the night off. Both Jake and Rosa bring fake cocaine, but they are ultimately hammered by too much alcohol.
The following morning, Hawkins tells Jake and Rosa that she and her crew are robbing a bank. She wants them to join in on the heist for crowd control. Jake and Rosa say yes, but sends Holt a message about the bank and its location so the Nine-Nine could bust in on Hawkins.
Unfortunately for the two undercover cops, Hawkins gave them the wrong bank details. Holt and the Nine-Nine end up going to a wrong and perfectly secure bank while a different squad busts Jake and Rosa with Hawkins leading the way. The lieutenant then pins them as Golden Gang members.
'Brooklyn Nine-Nine' season 4, episode 21 ('The Bank Job') clip: Captain Holt, Jake and Rosa go to Adrian for help
RELATED STORIES:
'Brooklyn Nine-Nine' season 4, episode 19 spoilers, recap: Captain Holt's mother needs help on 'Your Honor'
'Brooklyn Nine-Nine' season 4, episode 20 spoilers, recap: Jake and Rosa compete for their idol's reverence on 'The Slaughterhouse'
MEET IBT NEWS FROM BELOW CHANNELS