'Brooklyn Nine-Nine' season 4 finale spoilers, preview: Jake and Rosa are in deep trouble; Gina's past is revealed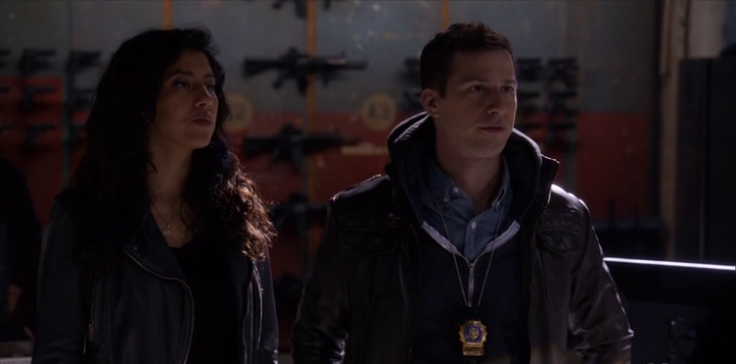 On the "Brooklyn Nine-Nine" season 4 finale, Jake (Andy Samberg) and Rosa (Stephanie Beatriz) are in deep trouble as they learn the truth about their idol. Also, Gina's (Chelsea Peretti) old flame threatens to destroy her relationship with Charles (Joe Lo Truglio).
Spoiler alert: This recap contains plot details about season 4 of "Brooklyn Nine-Nine." The fourth season premiered Sept. 20. The series is available for Australian viewers to watch on SBS every Wednesday at 8:00 p.m.
Jake found out last episode ("The Slaughterhouse") that his and Rosa's idol, Melanie Hawkins (Gina Gershon), is really a "dirty" law enforcement officer. The two actually competed for the hard-core lieutenant's admiration, but it turns out that she's a big player in the Golden Gang bank robbery case. Jake overheard Hawkins' conversation with the criminal he had a hard time capturing, and the lieutenant was clearly into the stolen diamonds from the start.
It's going to be interesting to see how Rosa reacts when Jake tells her that their hero is one crooked cop. But one thing is for sure, the two detectives are in deep trouble now that Hawkins' real motives have been revealed. Dan Goor, the comedy series' co-creator, revealed some details about the upcoming episode.
"An undercover mission goes south, causing Jake and Rosa's entire worlds to come crumbling down around them," Goor said. "It puts their careers and lives in jeopardy. Serious jeopardy."
Goor also hinted that Jake and Rosa are going to be forced to act like they're dirty cops themselves, those that go all-out when it comes to partying and drugs. Helping the two get their act together will be the beloved Captain Holt (Andre Braugher) and Rosa's eccentric lover, Adrian Pimento (Jason Mantzoukas), who returns in this season's finale after a long layoff.
"They enlist the help of the dirtiest clean cop they know who shows them how to get by in the world of drugs, though maybe accidentally doing a few himself," Goor said. "It's a tour de force by Mantzoukas."
Gina, meanwhile, is set to reveal a number of skeletons in her cupboard, including those that involve Milton, a former flame who's a pro snowboarder. According to Goor, one of Gina's skeletons threatens to destroy her relationship with Charles, who is going to be all over Milton. "Cruel Intentions" star Ryan Phillippe is set to play the snowboarder.
Fans should also look forward to Charles' white hair and wheelchair status next episode, as EW notes. Apparently the stress will be too much for Jake's best friend to handle. What's more, the two-part "Brooklyn Nine-Nine" season 4 finale is also going to feature Amy (Melissa Fumero) and Jake's experience with horny pigs, Rosa's "La La Land" guilty pleasure and Terry's (Terry Crews) embarrassing appearance on an MTV Beach House-like show during the '90s.
RELATED STORIES:
'New Girl' and 'Brooklyn Nine-Nine' renewed: Season 7 is last hurrah for Jess and the gang
'Brooklyn Nine-Nine' season 4, episode 19 spoilers, recap: Captain Holt's mother needs help on 'Your Honor'
'Brooklyn Nine-Nine' season 4, episode 20 spoilers, recap: Jake and Rosa compete for their idol's reverence on 'The Slaughterhouse'
MEET IBT NEWS FROM BELOW CHANNELS