'Brooklyn Nine-Nine' season 4, episode 15 spoilers, recap: Jake and Charles go all out on 'The Last Ride'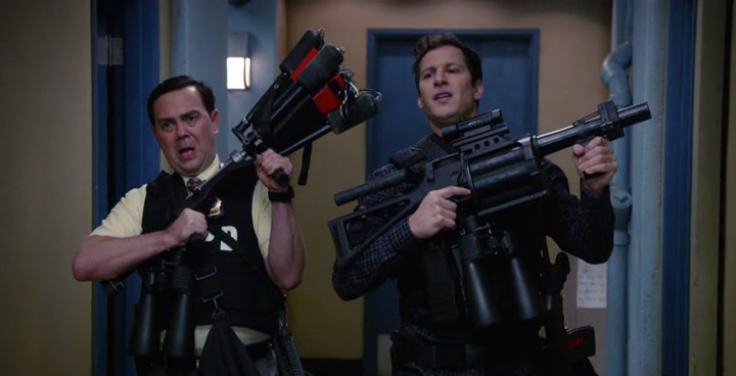 On "The Last Ride," Jake (Andy Samberg) and Charles (Joe Lo Truglio) pursue a bike thief on what could possibly be the duo's last case together. Meanwhile, Gina (Chelsea Peretti) spends what may be her last few hours at the precinct live streaming pranks on "Brooklyn Nine-Nine" season 4, episode 15.
Spoiler alert: This recap contains plot details about season 4 of "Brooklyn Nine-Nine." The fourth season premiered Sept. 20. The series is available for Australian viewers to watch on SBS every Wednesday at 8:00 p.m.
The squad learns that either the Seven-Four or the Nine-Nine is getting shut down, and the hearing is just a few hours away. Holt (Andre Braugher) says that the Seven-Four has a significant advantage since it has an elite gang taskforce. Jake blames the captain for not giving him his own "Strike Team Thunder Kill Alpha Colon Hard Target."
Jake believes that the precinct can still be saved if they solve a big case before the hearing, and Holt gives him and Charles one that involves a stolen bike. Jake and Charles go all out on what could be their last case together. They get a striped Mustang as their undercover vehicle and even wear matching leather jackets.
Gina, meanwhile, says she has already "moved on" and decides to prank everyone in the Nine-Nine one by one by getting them to drink cement. She live streams all of her pranks on her new online portal called Ginazon for her "legions of followers."
Amy (Melissa Fumero) finds out that Holt has been discreetly mentoring her all this time. The captain even has a binder full of notes for her to learn. Holt attempts to throw it away since they will no longer be able to work together when the precinct gets shut down, but Amy convinces the captain to teach her everything in their remaining hours.
Jake and Boyle arrest the bike thief, who turns out to be a heroin delivery guy. They find out that he works for Dom (Dale Pavinski), one of the biggest heroin suppliers in the city. Dom uses BMX riders to move the drugs, so Jake pretends to be one and auditions for a spot.
Unfortunately, Jake fails a race contest against Dom's worst rider. Good thing that Boyle is able to plant a bug on the rider's bike when he bumps him. They later track him down along with the drug lord. But the two decide not to arrest Dom and his crew until an actual transaction takes place to solidify the case and possibly bring in a bigger fish, even at the expense of the Nine-Nine.
Holt reveals to the entire squad that Jake and Charles aren't going to make the hearing, but says he is proud of them for choosing to be loyal to the city and its citizens, and not just the precinct. Later, the captain announces that Brooklyn Nine-Nine is safe and isn't shutting down thanks to Gina. She live streamed Holt's speech, which received massive online support.
RELATED STORIES:
'Brooklyn Nine-Nine' season 4, episode 14 spoilers, recap: Jake Peralta dies on 'Serve & Protect'
'Brooklyn Nine-Nine' season 4 finale to feature Ryan Phillippe
'Brooklyn Nine-Nine' season 4, episode 13 spoilers, recap: Old flames take over on 'The Audit'
MEET IBT NEWS FROM BELOW CHANNELS