Top 7 Freelance Platforms That Will Boost Your Career in 2023
Unleash your professional potential and take your career to new heights with the definitive list of the top seven freelance platforms poised to propel your success in 2023.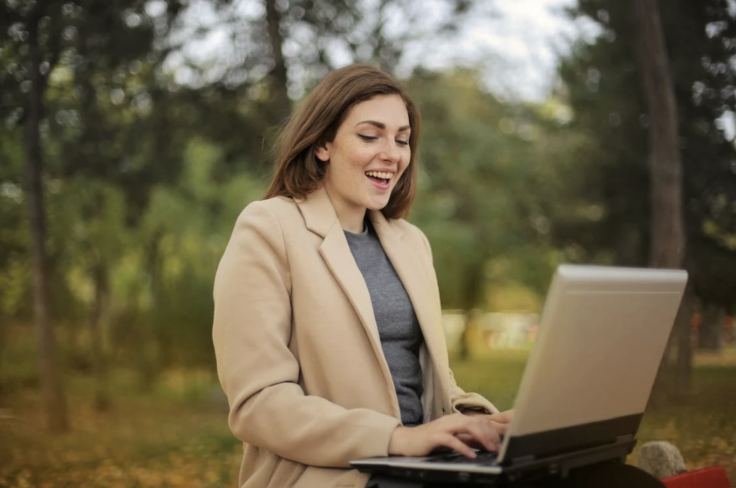 The freelance industry has grown significantly in recent years, and the year 2023 promises to be an exciting time for freelancers worldwide. Freelance platforms have become vital in connecting freelancers with clients, thanks to the surge in remote work and the increasing demand for flexible talent.
We want to focus on the top seven freelance platforms poised to boost your career in 2023. Whether you're an experienced freelancer or just starting out, these platforms offer excellent opportunities to showcase your skills, expand your professional network and secure high-paying projects.
Whether you specialise in design, writing, programming, or other fields, these platforms can help you find suitable projects. To make the most of these platforms, optimising your profile, leveraging their features and consistently delivering exceptional work is crucial. By doing so, you can position yourself for success in the competitive freelance market and unlock new opportunities to advance your career. Embrace the possibilities and thrive in the world of freelancing in 2023!
ServiceScape is an international platform facilitating service-related transactions on a global scale. It builds upon the freelance directory systems pioneered by EditAvenue and LanguageScape, offering a robust framework for online outsourcing. Whether you're in need of a seasoned professional for your project, an experienced professional seeking greater exposure, or a business requiring access to a skilled freelance workforce, ServiceScape caters to your needs.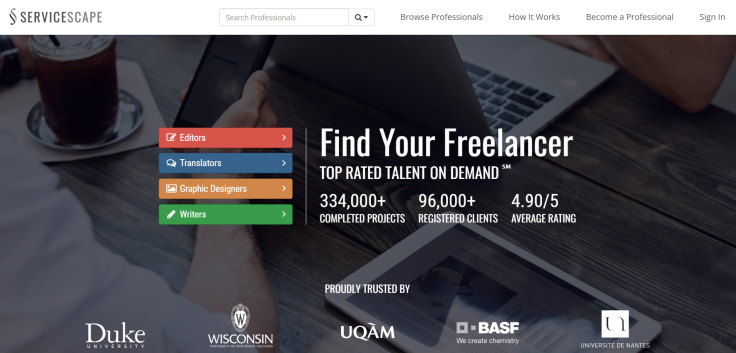 This is the ultimate platform for freelancers looking to skyrocket their careers or work independently. With over 334,000 completed projects and a network of 96,000 registered clients, ServiceScape offers unparalleled opportunities for talented professionals. With an average rating of 4.90/5, ServiceScape guarantees top-rated talent on demand, making it the go-to platform for clients seeking high-quality freelancers.
ServiceScape offers various roles, such as editing, translating, graphics design and effective writing, enabling freelancers to broaden their scope in an increasingly global marketplace.
If you're a freelancer looking to take your career to new heights or work independently with top-notch clients, ServiceScape is the platform to explore. Join now and find your ideal freelancer or unleash your skills to gain recognition, build your reputation and attract a larger audience.
2. Upwork
Upwork is the ultimate platform for freelancers looking to skyrocket their careers or work independently. With the tagline "How work should work", Upwork revolutionises the traditional rules of employment by providing a space where freelancers can connect with the best clients and projects right now and right here. Joining Upwork is completely free, allowing freelancers to register and browse through a vast pool of professionals, explore various projects and even book consultations. Whether you're a seasoned freelancer or just starting out, Upwork offers opportunities for every stage of your freelance career, empowering you to control when, where and how you work.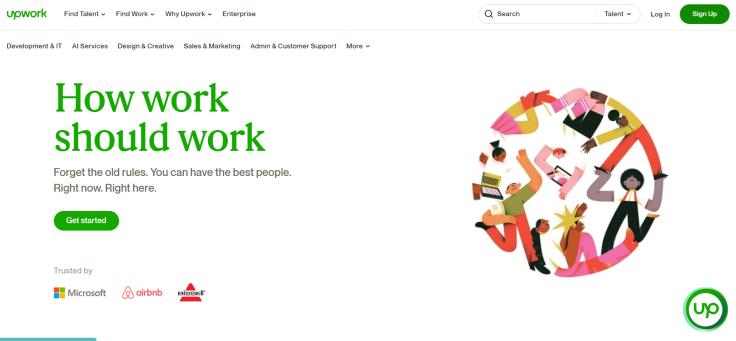 One of the key advantages of Upwork is its ability to connect freelancers with top talent without breaking the bank. As a freelancer, you can post your services and skills, making it easier for clients to find you. Alternatively, Upwork's advanced search algorithms can help you find the perfect job by matching your expertise with suitable projects. With low transaction rates, Upwork ensures you can work with the best clients and enhance your professional growth without compromising your financial stability.
At Upwork, the focus is on building solid relationships between freelancers and clients. The platform recognises both parties' passion and commitment to their work. Whether a small task or a long-term project, Upwork ensures that everyone involved cares deeply about delivering high-quality results. By aligning the goals of clients and freelancers, Upwork fosters an environment where both sides can flourish and grow together. As a freelancer on Upwork, you'll not only find opportunities to take your career to new heights but also gain access to tools for skill development, business evolution and the control and freedom necessary for success.
3. Behance
Freelancers could skyrocket their careers by utilising Behance. This online platform has revolutionised how creative professionals showcase and promote their work, opening doors to new clients, collaborations and global recognition. With Behance, freelancers can create a captivating profile that serves as a digital portfolio, allowing them to display their projects visually, stunningly and organised.
One of the standout advantages of Behance is its integration with Adobe Creative Cloud. Freelancers who utilise Adobe software such as Photoshop, Illustrator and InDesign can seamlessly sync their Behance profiles with their Adobe accounts. This integration streamlines the process of showcasing their work directly from the tools they use, saving time and effort while maintaining a cohesive online presence.
Meanwhile, Behance's job listing section is a treasure trove for freelancers seeking new opportunities. This feature enables companies and individuals to post creative job opportunities and freelancing gigs directly on the platform. By keeping a keen eye on these listings, freelancers can discover exciting projects, collaborations and potential clients actively seeking their unique skills and expertise.
By leveraging Behance, freelancers can access a global audience and an extensive creative community. With millions of users worldwide, the platform serves as a virtual stage where talents can shine and catch the attention of clients, art directors and potential collaborators from all corners of the globe.
4. Fiverr
Fiverr is an innovative online marketplace that has revolutionised the way freelancers connect with clients and build successful careers. With its user-friendly platform and various services, Fiverr empowers freelancers to showcase their skills, find meaningful projects and grow their professional networks. The website is a valuable hub for freelancers across various fields, providing a platform to market their expertise and earn a living doing what they love.
One of the key ways Fiverr supports freelancers in their careers is by offering a vast array of categories and services, enabling individuals to showcase their unique skills and talents. Whether you're a graphic designer, writer, web developer, marketer, or any other type of freelancer, Fiverr provides a platform where you can create a compelling profile, highlight your strengths and attract potential clients. The platform also allows freelancers to set their own prices and packages, giving them full control over their rates and the ability to negotiate terms directly with clients.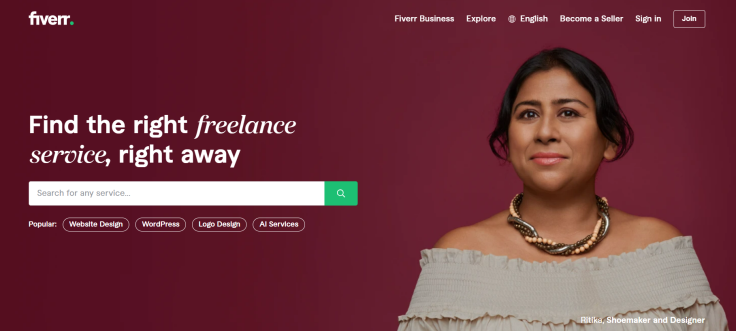 Moreover, Fiverr facilitates freelancers' professional growth by fostering a thriving community and offering educational resources. Freelancers can connect with like-minded individuals, seek advice and collaborate on projects, thereby expanding their networks and finding new opportunities. Fiverr also provides valuable resources such as webinars, tutorials and blog articles to help freelancers enhance their skills, stay updated with industry trends, and sharpen their expertise. With its commitment to empowering freelancers and fostering their growth, Fiverr has emerged as a leading platform for individuals seeking to thrive in the gig economy.
5. TaskRabbit
TaskRabbit is an online marketplace and platform that benefits individuals seeking assistance with various tasks and offers significant advantages to freelancers looking to enhance their careers. By joining TaskRabbit as a Tasker, freelancers can access a vast pool of potential clients seeking specific skills and services. The platform covers various tasks, from home repairs to event planning, allowing freelancers to showcase their expertise and expand their client base.
In addition, TaskRabbit provides freelancers with a comprehensive profile where they can showcase their skills, qualifications and experience. This profile is an online portfolio helping freelancers establish their credibility and attract clients. TaskRabbit also enables freelancers to receive reviews and ratings from previous clients, enhancing their professional reputation and increasing their chances of securing future tasks.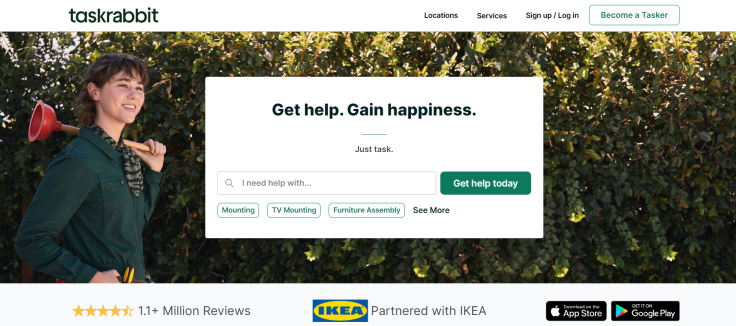 Meanwhile, the platform also offers flexibility and autonomy to freelancers. They have the freedom to set their own rates, negotiate prices and discuss task details directly with clients. This direct communication ensures that freelancers clearly understand client expectations, enabling them to deliver high-quality work.
Whether freelancers are looking to fill gaps in their schedules or expand their client network, TaskRabbit provides the necessary tools and support to help them succeed.
6. DesignCrowd
This innovative online platform empowers freelance graphic designers, logo designers, web designers and other creative professionals to showcase their skills and connect with a global clientele. By joining DesignCrowd, designers gain access to a vast marketplace to find exciting design projects and expand their professional network. The platform allows freelancers to demonstrate their creativity and expertise while working on diverse assignments across various design categories.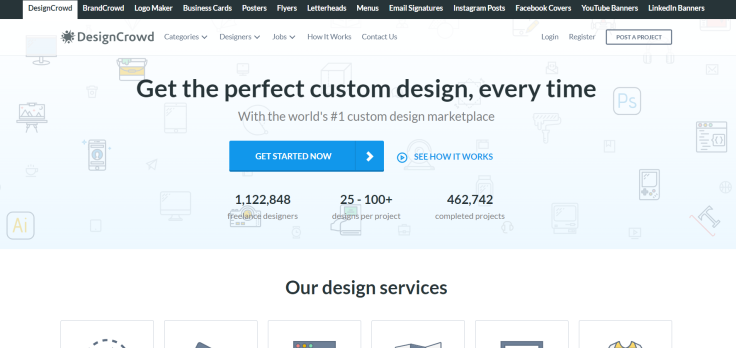 Freelancers on DesignCrowd benefit from a streamlined process that facilitates their career growth. Once designers create an account and build their portfolio, they can browse through project listings and choose assignments that align with their interests and abilities. By participating in design contests and submitting their concepts, designers can showcase their talents and stand out in a global competition.
DesignCrowd fosters a collaborative environment, allowing designers to interact with clients, receive feedback and refine their designs accordingly. This feedback loop enables freelancers to hone their skills and gain valuable insights into the preferences and expectations of clients from different industries. Additionally, the platform provides a secure payment system, ensuring that designers receive fair compensation for their work. Freelancers can advance their creative careers and establish themselves as sought-after designers in their respective fields by utilising DesignCrowd's platform.
7. PeoplePerHour
PeoplePerHour is a major platform that empowers freelancers and helps them advance in their jobs. With its user-friendly interface and extensive network of clients, the website serves as a virtual marketplace where freelancers can showcase their skills, find exciting projects and build long-term professional relationships. By joining PeoplePerHour, freelancers gain access to a wide range of opportunities across various industries, allowing them to diversify their portfolios and expand their expertise.
PeoplePerHour has the ability to connect freelancers with clients from all over the world. This global reach opens up a world of possibilities for freelancers, as they can work with clients from different cultures, industries and backgrounds. The platform offers a streamlined communication system that facilitates collaboration and ensures seamless project management. Freelancers can negotiate their terms, set their own rates and establish mutually beneficial agreements with clients, enabling them to take control of their professional journeys.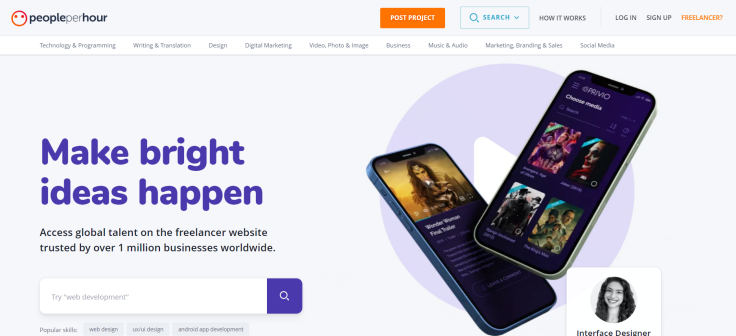 Moreover, PeoplePerHour provides freelancers with a supportive community and valuable resources to enhance their career growth. Freelancers can receive client feedback and ratings, which serve as testimonials for their expertise and professionalism. These testimonials and the platform's reputation system build trust and credibility for freelancers, increasing their chances of securing high-quality projects and long-term partnerships.
The freelance industry is experiencing remarkable growth, and freelancers have a multitude of opportunities to skyrocket their careers in 2023. The top seven freelance platforms highlighted in this article offer freelancers the chance to showcase their skills, expand their professional networks and secure high-paying projects. By optimising their profiles, leveraging platform features and consistently delivering exceptional work, freelancers can position themselves for success in the competitive freelance market.
Whether it's ServiceScape, Upwork, Behance, Fiverr, TaskRabbit, DesignCrowd, or PeoplePerHour, each platform offers unique benefits and caters to specific fields, allowing freelancers to find suitable projects and clients. As freelancers embrace these platforms and seize the opportunities they offer. Confidently navigate the freelance market and achieve new heights in their careers this 2023!
© Copyright 2023 IBTimes UK. All rights reserved.
MEET IBT NEWS FROM BELOW CHANNELS