Putin drafts bill to eliminate dollar and euro from Russia's trade with former Soviet states; China pitches in with measures to boost local currency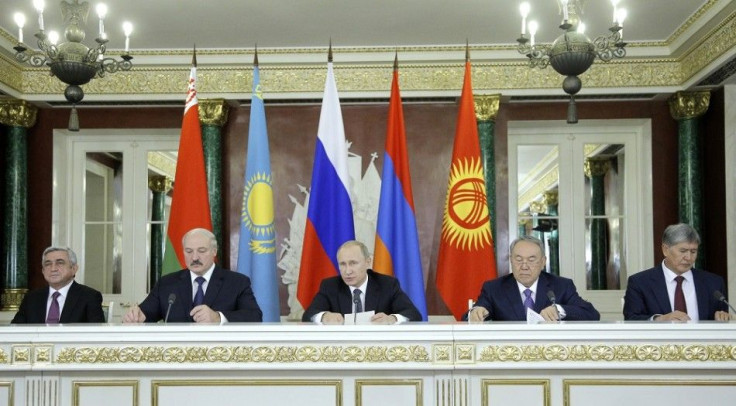 Sanction-hit Russia seems determined to stop the U.S. dollar in its tracks with Russian President Vladimir Putin reportedly drafting a bill to accord primacy to national currencies in the matter of trade between itself and other former Soviet states or CIS countries. It is a double-edged move -- to curb the use of U.S. dollar and euro and to check the influence of the source countries. The State Duma, Russia's lower house of parliament, will have to ratify the president's bill to make it a law.
The bill intends to expedite the creation of a single financial market between Russia, Armenia, Belarus, Kazakhstan, Kyrgyzstan, Tajikistan and other countries, which broke away from the former Soviet Union.
A statement from Kremlin said such an arrangement would enhance trade and achieve better macro-economic stability, Russia Today reported.
"This would expand the use of national currencies in foreign trade payments and financial services and create preconditions for greater liquidity of domestic currency markets," the statement added.
The proposed law will be within the framework of the Eurasian Economic Union. As of now, some 50 percent of turnover in the EEU is in dollars and euro. An agreement already exists between Russia, Belarus, Armenia and Kazakhstan for an obligatory transition into settlements in national currencies of Russian rouble, Belarusian ruble, dram and tenge by 2025-2030.
China's moves
Meanwhile, China is also doing its bit to move away from the influence of American dollar in international trade. In August, China's central bank gave a fillip to Russian rouble by floating it into circulation in Suifenhe City, Heilongjiang Province, with a two-currency (rouble and yuan) program with rouble being introduced as a replacement for the U.S. dollar.
In yet another step, the Russian Central Bank and the People's Bank of China also signed a three-year currency swap agreement in 2014, worth 150 billion yuan (around US$23.5 billion or AU$33.5 billion) for boosting financial cooperation between the two countries.
According to analysts, the efforts by China, Russia and other nations to promote trade in their own local currencies will have long term repercussions for the dominance of dollar, reports Global Research.
Mahdi Darius Nazemroaya of the Centre for Research on Globalisation in Montreal noted: "The Chinese are in the process of displacing the monopoly of the U.S. dollar. They are dropping their U.S. treasury bonds, stockpiling gold reserves, and opening regional distribution banks for their own national currency. This will give them easier access to capital markets and insulate from financial manipulation by Washington and the Wall Street."
The CRG scholar added that the dollar displacement moves by China and Russia will ultimately alter the financial architecture of the world, built around the American dollar and nullify Washington's ability to use dollar as a favourite weapon to tackle its economic rivals.
For feedback/comments, contact the writer at feedback@ibtimes.com.au or let us know what you think below.
MEET IBT NEWS FROM BELOW CHANNELS