'Preacher' season two spoilers: Tracy returns, Jesse may save Eugene from hell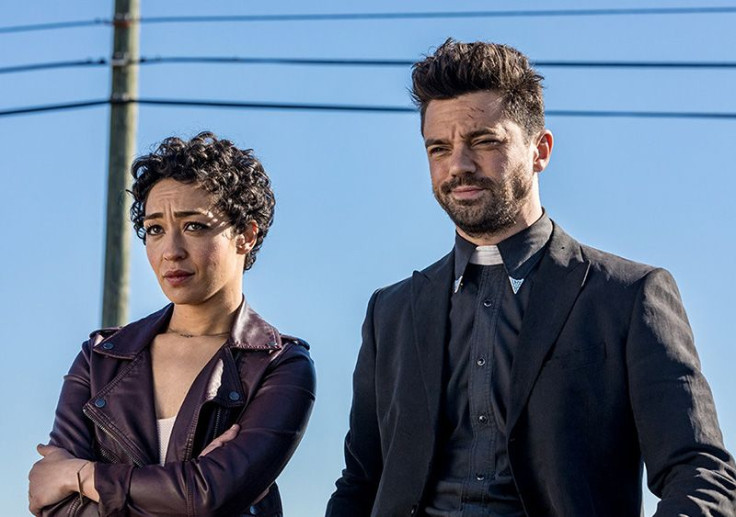 The second season of "Preacher" is fast approaching, with bits and pieces of what to expect slowly becoming unveiled. Most recently, a post by one of season two's cast members revealed what may be next for Jesse and the gang. Sharing a photo on Instagram, actress Gianna LePera — who portrayed Tracy Roach in a recurring role during the show's first season — revealed that she recently shot some scenes with Ian Colletti (who portrays Eugene Root) and Dominic Cooper (who portrays the show's main protagonist, Jesse Custer).
For LePera to share some scenes with Colletti and Cooper is a factor to take note of when their respective characters are taken into consideration. As Colletti's character was last seen being sent to hell, Eugene's future in the show has yet to be explained. Furthermore, as some fans may recall, season one gave a glimpse into Eugene's history — regardless of how broken it seemed — with Tracy. LePera shooting a scene with Colletti only implies that perhaps Eugene and Tracy's relationship may be further developed, or explained at the very least, in season two.
On the other hand, some fans speculate that LePera shooting with both Colletti and Cooper might mean something for Eugene and Jesse instead. As Reddit user GooGooGajoob67 points out, perhaps LePera's post suggests a possibility of Jesse actually going to hell in order to save Eugene, as opposed to a possible flashback scene between Eugene and Tracy. While this is all speculation for now, it only means that "Preacher" has a vast library of alternatives to choose from in the development of their sophomore season's storyline.
For the uninitiated, "Preacher" tells the story of local preacher Jesse Custer, who one day finds himself with some of God's powers. Season one had more world-building for the story's universe, but its conclusion saw Jesse leaving town and embarking on a journey to find God. Besides Cooper in the role of Jesse, the show's cast is also joined by Joseph Gilgun as Cassidy — Jesse's friend who is an Irish vampire — and Ruth Negga who portrays Tulip O'Hare, Jesse's ex-girlfriend.
"Preacher" season two will see this trio on the road and the mayhem that will ensue along the way. The show will be back on AMC by June 19.
MEET IBT NEWS FROM BELOW CHANNELS