MTV Goes Black And White To Celebrate Dr. Martin Luther King Jr. Day, Encourage People To Talk About Race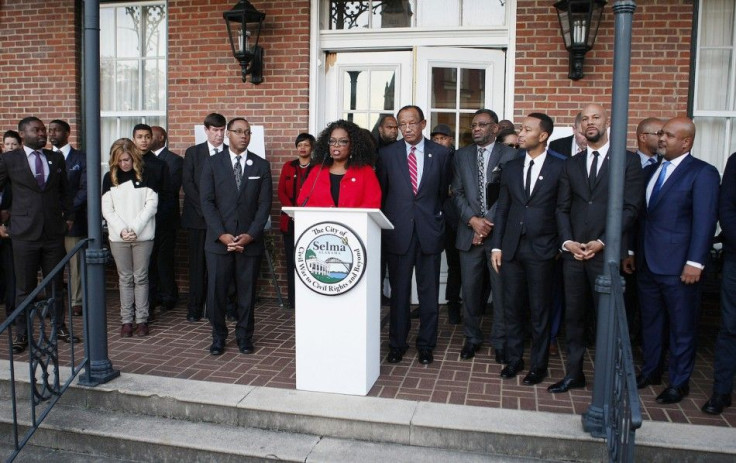 MTV went black and white on Jan. 19, 2015 from 9 a.m. to 9 p.m. ET to celebrate Dr. Martin Luther King Jr. Day. Many celebrities like Kendrick Lamar, Pete Wentz, Rick Ross, Penn Badgley, Big Sean, Common and Jordin Sparks appeared on the channel to talk about race. By going black and white for a day, the popular music channel has said that it has "honored of the legacy of Dr. Martin Luther King Jr."
MTV also urged its viewers to use #TheTalk to express their views on racial discrimination. The channel conducted a survey and found out that 73 per cent of youth, in the age group of 14 to 24-year-old, believe that "having more open, constructive conversations" about race will help people become "less prejudiced." However,only 10 per cent actually talked about the sensitive topic, according to the survey.
"We have made enormous progress in teaching everyone that racism is bad. Where we seem to have dropped the ball is in teaching people what racism actually is," "The Daily Show" host Jon Stewart is quoted as saying by MTV. In addition to inviting many young people to talk about race, the channel also invited politicians like Senator Cory Booker, Senator Rand Paul and Congressman John Lewis to share their views. These senior political leaders marched with Dr. Martin Luther King Jr. from Selma to Montgomery, Alabama in 1965.
The channel encouraged people to come forward and talk about anything under the sun that reminds them of race. It wanted its viewers to remember Martin Luther King Jr. Day not as another "day off" but as a day to take some action. MTV also talked to Kendrick Lamar. He revealed that his father talked to him about this topic and it helped him face the world with confidence. He said he became aware that, he is going to be tested because of the colour of his skin. "And that's just how it is, you know. We have legacies, people who died for it," he said. Martin Luther King Jr. Day is an American federal holiday to mark the Jan. 15 birthday of Martin Luther King, Jr. It is observed on the third Monday of January, every year.
For questions/comments regarding the article, you may e-mail the writer at email: n.tewari@ibtimes.com.au
MEET IBT NEWS FROM BELOW CHANNELS