'The Last Kingdom' season 2: More behind-the-scenes pictures released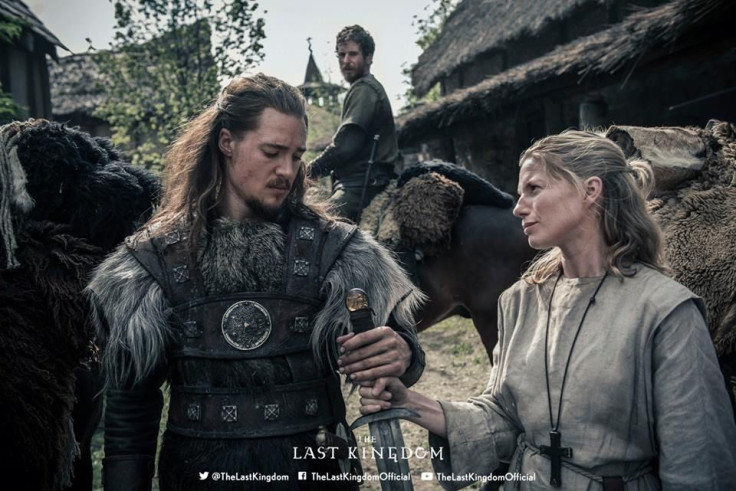 Two new behind-the-scenes pictures from the production set of "The Last Kingdom" season 2 have been released online. One of the posts reveals a filming location of the show, and the challenges they had to face.
The first picture [see below] shows how the producers of the show watch the filming of the scenes on set. The post shows the chair one of the producers, who used to watch the monitor to see how the scene was being filmed.
The second picture [see below] was taken in Northumberland in UK. The filming took place in one of the beaches there. On that particular day when the photo was clicked it was raining, so the production may have been stopped briefly. The cast and crew members can be seen huddled under umbrellas, to keep from getting wet. The equipment they used was also covered in plastic in order to stop water from entering and damaging them.
Filming of "The Last Kingdom" season 2 wrapped in November. Cast member Alexander Dreymon (Uhtred of Bebbanburg) showed how the dialogues are recorded in the studio with the team. The first set of official pictures and a teaser trailer have already been released.
The show is set to return in the spring. However, the producers haven't announced an exact release date. But, with the teaser and the official picture already released, the wait will not be a long one now.
The plot this time around will focus on Uhtred's personal journey. Based on the teaser, it appears that the young warrior, after helping secure the kingdom of Wessex for Alfred (David Dawson), will seek to take the lands that belong to him back from his uncle.
The show promises more battles and action, with Uhtred leading the charge once again to decimate his enemies. The fans can expect more twists and turns in the historical drama, with new characters and storylines.
Netflix has joined in the production of the BBC Two TV series. With this the show's reach has increased, and its popularity can only grow as more fans discover the show every day.
Apart from Dreymon and Dawson, some of the other cast members to return in "The Last Kingdom" season 2 are Emily Cox (Brida), Ian Hart (Beocca) and Tobias Santelmann (Ragnar). The show is expected pick up from right where it left off in the last season. So, the fans can expect some Danes vs. Saxons action early on.
Credit: Instagram/ The Last kingdom
MEET IBT NEWS FROM BELOW CHANNELS