'Game of Thrones' Season 7: Leaked video of dragon scene; Jon Snow and Sansa are a perfect team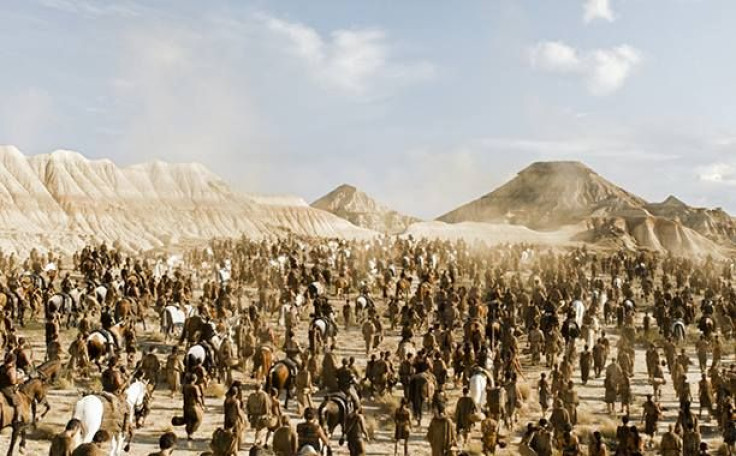 A video from the production set of "Game of Thrones" Season 7 has leaked online. The action scene involved a dragon and a cloaked character. Meanwhile, cast member Sophie Turner explained in a recent interview how Sansa and Jon Snow are a perfect team to rule the north.
[Spoiler alert]
The production crew was busy with a night shoot in Malpartida, Spain. A leaked video of the filming posted on YouTube shows the crew filming an action sequence. They used a flame thrower to torch a man in a cloak. This will later be edited to show a dragon incinerating someone in the TV series.
Who is being burnt in this scene? According to a report by WatchersontheWall, the cloaked man screams "khaleesi!" and some other words that were inaudible. It is not clear if Emilia Clarke (Daenerys Targaryen) was also involved in the filming.
The cloaked man will suffer severe burns and may also die in "Game of Thrones" Season 7. Previous leaks about the TV series suggested that Jorah Mormont (Iain Glen) will find a cure and return to serve his khaleesi next year. Will the character face another challenge in the service of his queen?
While the Daenerys invades in the south, there is still some trouble in the north. Although the Starks have reclaimed their ancestral castle, Jon Snow (Kit Harington) got named king in the north and Sansa (Sophie Turner) was not very pleased for not getting much credit for her role in the battle against the Boltons.
In an interview with The Wrap, Turner said that Sansa being a politician and Jon Snow being a military man; they make a perfect team in "Game of Thrones" Season 7, if only they listen to each other. She revealed the storylines are now coming together and moving towards a conclusion. She teased that the characters are forming alliances and the fans should expect some big reunions.
MEET IBT NEWS FROM BELOW CHANNELS