Free Xbox One offered by Australian carrier Optus, ongoing Deals with Gold feature 'Call of Duty: Advanced Warfare,' 'WWE 2K16'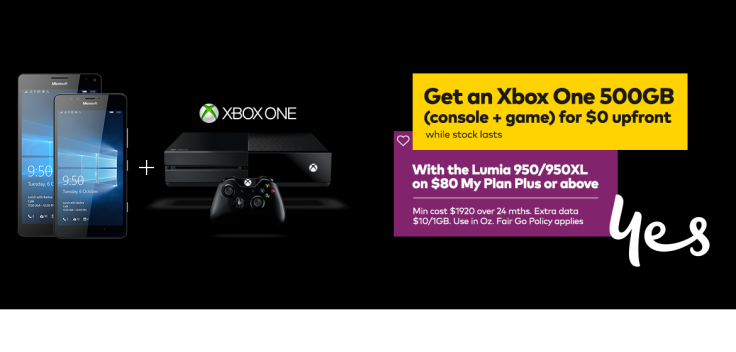 Australian carrier Optus subscribers who are looking to get a Lumia handset have another reason to do so. There is a new ongoing offer that offers this bundle that allows the customer to also get what is essentially a free Xbox One console.
Windows Central spotted the new offer from Optus, which is tailored for customers who are looking to get either a Lumia 950 or Lumia 950 XL with a My Plan Plus or My Plan Business with a two-year lock-in contract. This offer is only good for a contract that's worth AU$80 or more a month.
The offer works the same way that bundled electronics work. Customers can get the 500GB Xbox One with no upfront costs together with the aforementioned bundle. However, the catch is that customer cannot leave the plan early, or else the remaining cost of the Xbox One will have to be paid in full.
This is not a bad buy, especially since the Windows 10 phone will more or less benefit from the integrated and universal approach that Microsoft is taking for its devices. According to the source, this offer is limited, depending on the leftover Xbox One consoles that are available in stock with Optus.
Interested customers can choose from the AU$80, AU$100 and AU$120 plans, as per the Optus website. The best pick is supposedly the AU$100, as it is the middle ground of the offers. Though for those who are willing to spend the extra AU$20 a month can get unlimited international calls, extra 5GB data and a bonus of up to 10 days of Optus Travel packs.
This is a pretty sweet deal for those who want to get an Xbox One and are fairly avid subscribers of Optus. In related Xbox One news, the ongoing Weekly Deals with Gold offer a slew of top title picks, which would coincide well, should players opt to get an Xbox One via the Optus promo
Over at Major Nelson's blog, the Xbox One discounts were revealed to run as high as 60 percent off on titles like "Call of Duty: Advanced Warfare" Gold Edition, "EA Sports Rory McIlroy PGA Tour," "Payday 2: Crimewave Edition" and "WWE 2K16 Digital Deluxe Edition." Other titles offered include "Naruto Shippuden Ultimate Ninja Storm 4," "No Time to Explain" and "Elite Dangerous" Standard Edition.
These deals are also time-sensitive, as these will run only until May 16. As usual, it requires an Xbox Live Gold subscription.
MEET IBT NEWS FROM BELOW CHANNELS