EA Sports reveals 'UFC 2' gameplay trailer, release date and game features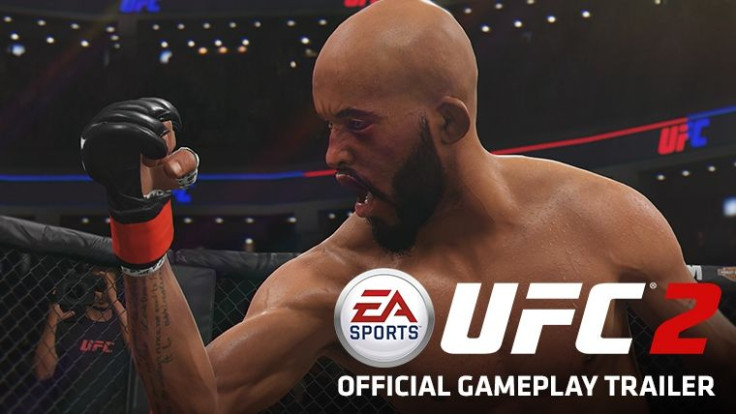 In lieu of the worldwide March 17 launch of "UFC 2" on Xbox One and PS4, EA Sports has opened pre-orders for the game. Gamers who will reorder can get access to two legendary fighters and one mystery player.
Over its official website, EA Sports has confirmed that North America will get the second installment of the UFC video game franchise on March 15, ahead of the worldwide release. It has also launched the first gameplay trailer for the "UFC 2."
The "UFC 2" gameplay trailer features some of the biggest stars including Ronda Rousey, Robbie Lawler, Andrei Arlovski, Holly Holm, Jon Jones, Conor McGregor and several others. The video shows some big-time submissions, knockouts and grappling techniques featuring top fighters, male and female, in the ring. Fans can also watch some of the most surprising knockouts of last year, showing the cover stars Ronda Rousey and Conor McGregor.
"Whether fans want to play upcoming cards, recreate the outcome of recent fights, or go back to fight with MMA legends, we'll help them do that in the most authentic and exciting way ever in an MMA simulation," said Creative Director Brian Hayes in a press release via Businesswire.
As Hayes noted, players who pre-order EA Sports "UFC 2" will get a one day access to Japanese MMA legend Kazushi Sakuraba and UFC Hall of Famer and three-time King of Pancrase, Bas Rutten. Additionally, fans will also get access to a mystery fighter. "UFC 2" will be available for both Xbox One and PlayStation 4, and the game will feature former bantamweight champion Ronda Rousey and UFC featherweight champion Conor McGregor as its cover athletes.
Introducing the two fighters Bas Rutten and Kazushi Sakuraba with pre-orders is a perfect addition to the game, according to EA Sports. Hayes also said in his statement that adding these fighters to the game is something very big and the mystery player will also amaze fans of "UFC 2."
The official gamepage for "UFC 2" indicates that several new features will be introduced with it. The game will introduce new dynamic grappling systems for the first time in any MMA game. The game also features a revamped KO Mode, Career Mode, custom event creator and a whole new level of character customisation.
EA SPORTS UFC 2 | Official Gameplay Trailer | Xbox One, PS4 (Credit: YouTube/EA SPORTS)
MEET IBT NEWS FROM BELOW CHANNELS