'Crash Bandicoot N. Sane Trilogy' PS4 trailer shows upgraded graphics & controls; Release on Xbox One possible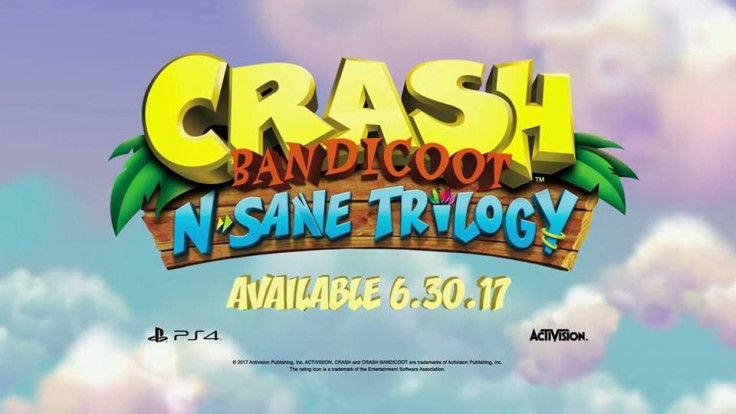 Sony has released a "Crash Bandicoot N. Sane Trilogy" PS4 trailer that shows some impressive new gameplay. The PS4 remaster is undoubtedly one of the most-anticipated remake projects of 2017. The game is set for a June 30 release.
According to Express, the "Crash Bandicoot N. Sane Trilogy" includes a collection of some of the most-loved games from the original series. The latest trailer releases by Sony shows "Crash Bandicoot 2" level Hang Eight, featuring Venus Fly Traps amidst rapids and waterfalls. It is still unknown whether the game is releasing on other platforms. A tweet from PlayStation Ireland has fuelled anticipation that the game won't just be a PlayStation 4 and PS4 Pro exclusive, as initially thought. The tweet mentioned that it would be coming to these consoles first.
"Crash Bandicoot N. Sane Trilogy" fans now believe that an Xbox One release is now a real possibility. Activision along with the team behind "Skylanders," Vicarious Visions, will be handling the development of "Crash Bandicoot Remastered Collection." Moreover, if latest reports are to be believed, a brand new "Crash Bandicoot" game will also be developed, depending on how the "N. Sane Trilogy" does on PS4.
"Obviously we're fans. Everybody wants to see a new Crash game. I'm onside with everybody else. We'd love to see as much Crash as possible. It's really cool that he's really making a comeback right now," a member of the development team told the same online publication in January.
The new collection will have the level layouts from "Crash Bandicoot," "Crash Bandicoot 2: Cortex Strikes Back" and "Crash Bandicoot: Warped." The "N. Sane Trilogy" will have its graphics, physics and controls all updated. It will also have features such as the modern checkpoint system. According to WWG, the trilogy will deliver exactly what fans are expecting. The trailer shows Crash doing light platforming and then jumping on to a surf board. He dodges piranhas, mines and whirlpools, taking help from hippos who lend their backs.
Sony has announced the "Crash Bandicoot N. Sane Trilogy" during the PlayStation Experience 2016 conference. It even included the WipEout Omega Collection. A GameStop ad shared on Reddit, clearly showed Sony's trademark PlayStation 4 EXCLUSIVE mark on the top right hand corner. There must have been talks to release the game on other consoles after this photo was snapped. Stay tuned on IBT AU for more updates on Crash Bandicoot N. Sane Trilogy."
MEET IBT NEWS FROM BELOW CHANNELS