'Clash Royale' May update brings live spectating, more rewards, new cards and a new Fair Play policy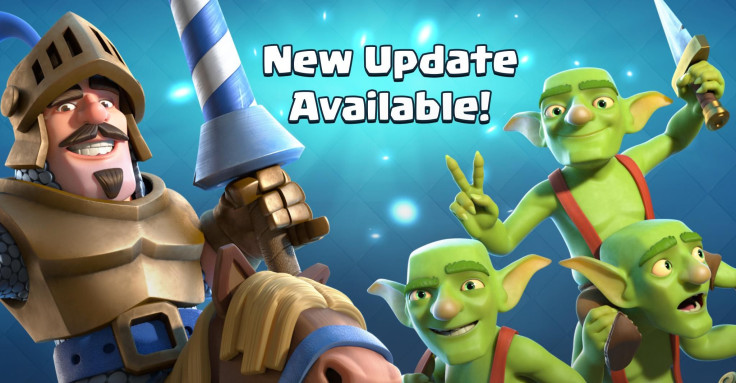 With the new month comes a new update for Supercell's new but hugely popular strategy fighting title "Clash Royale." The developer as recently announced the latest update which brings in six new cards, more rewards for players and a new feature for those who love to learn from the best.
Over at the Supercell forum, the developer has confirmed six more cards coming to "Clash Royale." There is one new card each for Common, Rare and Epic. These are Fire Spirits, Furnace and Guards respectively. Additionally, there are three Legendary Cards that players can collect: Lava Hound, Miner and Sparky. From the names of the cards alone, they seem to be hailing a common theme of fire.
Additionally, there are even more rewards for players. Those who have just started playing—or even freemium players who see the slow-drip of gems in free chests or crown chests---know that gold and gems are hard to come by.
This being the case, Supercell has confirmed that Crown Chests will now have twice as much loot inside. Super Magical Chests now have double the chances of dropping. As for Giant and Magical Chests, the developer has also increased their chances of dropping.
Perhaps the biggest change is that, now, players can enjoy more than just rising up (or going down) in rank when they fight with their chest slots full. Normally, the only reason why players will fight is to fill up chest slots, which need to be opened in different time intervals. It can range from three hours (for Silver Chests) to as long as 12 hours for the likes of Super Magical and Giant Chests.
As such, some players do not feel the need to go to battle when the chest slots are full, as they won't receive any chests even when they win. Now, Supercell will be granting Gold for each time a player wins, even when there are no free chest slots. This is a good move, and one that will ultimately engage more players, especially those who want to do the grind to get more cards.
For more advanced players, any donations or requests for cards will increase with every higher arena. At the same time, there is a chance to see Legendary Cards appear once a player is in the Legendary Arena. Finally, the maximum gold has been increased to one million.
One other feature that Supercell has added to "Clash Royale" is live spectating. This means that players can now view Friendly Battles live and even throw confetti. Those who prefer watching TV Royale Channels can even view battles from any Arena.
Supercell has also added a few interesting features to make strategy even more fun to do. Players who admire better tacticians can now copy their battle deck as their own just from the profile. Battle Deck Reshuffling is also now possible, which allows moving cards within the Battle Deck when they wobble.
In the previous weeks, cheating in "Clash Royale" has been a major issue. As such, Supercell is not only bringing in Fair Play to "Clash Royale." The well-beloved "Clash of Clans" title, which had been the original and very popular strategy building game from the developer, is also part of the deal. This, alongside other Supercell games, appear to be under this new policy.
"This is not a 'one-time thing,' but an ongoing initiative designed to safeguard all games going forward," said one Supercell staff over at the official forums.
"Clash Royale" update (Credit: YouTube/Chief Pat - Clash Royale & Clash of Clans)
MEET IBT NEWS FROM BELOW CHANNELS