'Captain America: Civil War': New promo images show the members of two factions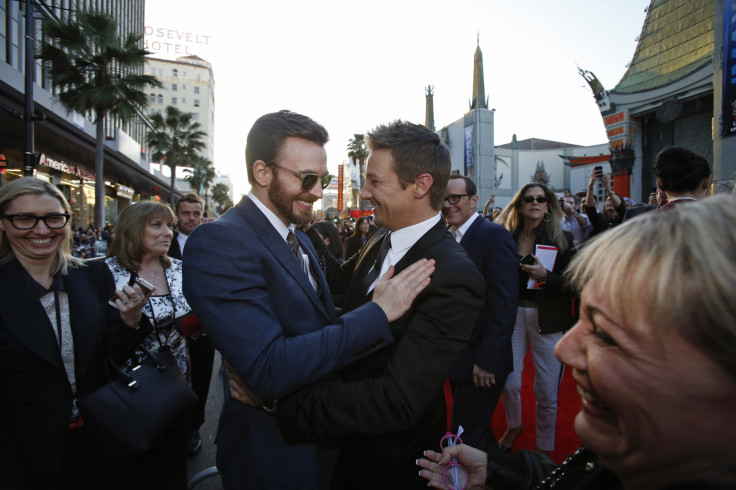 A new set of promo pictures of "Captain America: Civil War" shows the team members of each opposing factions. Each team is led by Steve Rogers and Tony Stark respectively.
The promo pictures posted on Daily Superhero show Steve Rogers (Chris Evans) as the head of a team that is comprised of Hawkeye (Jeremy Renner), Winter Soldier (Sebastian Stan), Sharon Carter (Emily VanCamp) and Sam Wilson (Anthony Mackie). Tony Stark's (Robert Downey Jr.) team is comprised of James Rhodes (Don Cheadle), Natasha Romanoff (Scarlett Johansson), The Vision (Paul Bettany) and Black Panther (Chadwick Boseman).
The main plot of the movie revolves around a new legislation being introduced by governments across the globe. The legislation seeks to control the unlimited freedom the superheroes enjoy, to strike at any target across the globe.
The Winter Soldier may also be a target of the government, who will be interested in making sure he is made answerable to all the crimes he committed when he was brainwashed by Hydra. Steve, however, is of the opinion that his friend should be let go because he was not himself when Bucky committed the crimes.
It is only natural for Bucky and Steve to end up on the same team in "Captain America: Civil War." Similarly, Rhodes and Tony share a strong bond of friendship. While Tony's decision to support the government may come as a surprise, Rhodes' decision to support the governments is understandable as he works directly under the government.
Black Panther is being introduced for the first time in the forthcoming movie. The character is from a fictitious African country called Wakanda. The name Wakanda was mentioned in "Avengers: Age of Ultron" for being the source of the precious metal Vibranium.
So far, the producers have not shown what Spider-Man (Tom Holland) looks like in "Captain America: Civil War." It is also unclear which team the wall crawling superhero will support in the movie.
MEET IBT NEWS FROM BELOW CHANNELS