Audi TT RS roars with 400 horsepower and 3.7s jump from 0 to 62mph, debuts first in Beijing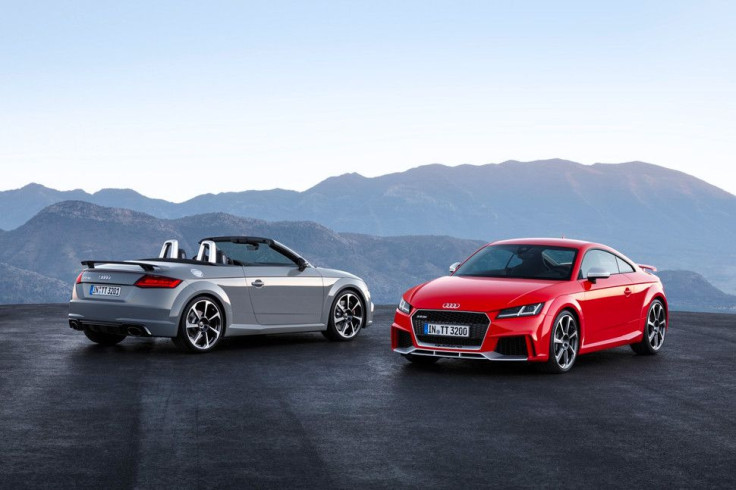 Audi has unveiled its newest creation yet, and it's set to do some serious battle against biggest competitor, the Porsche Cayman. The Audi TT RS is setting bigger expectations by overtaking the tire tracks that the previous TT RS has left behind.
Some notable improvements on the new Audi TT RS include a 2.5-litre five-cylinder turbo petrol engine under the hood. It differs also in the fact that aluminum has been used to lessen the weight, instead of the heavier steel material, Top Gear reported.
It's also pushing the limit as far as horsepower, with 395bhp that bests the Porsche 718 Cayman by 50bhp. It's even faster than the older model, the TT RS Plus, as it can go from zero to 62mph in just 3.7 seconds.
More than the substance under the hood, the Audi TT RS also proves itself on the looks department. Drivers and passengers will enjoy some bucket seats and the Audi Connect infotainment system for a comfortable ride. Those behind the wheel will enjoy the 12.3-inch Virtual Cockpit display and additional information screens. Future Audi TT RS buyers can also go the extra mile for some bells and whistles via the 4G LTE modem for Wi-Fi connectivity and wireless phone charging, CNet reported.
The Audi TT RS will first make its official debut in the Beijing Motor Show 2016. The press were the first to see the Audi TT RS, and according to Autocar, both of its variants, the Coupe and the Roadster will be present in Beijing's biggest trade show.
Interested car enthusiasts who want to set their eyes on Audi's newest masterpiece can visit the motor show at the Beijing China International Exhibition Centre from April 29 to May 4.
It's the largest automobile show in China, and is considered as one of the top motor shows in the world. Participants can expect to see cars from all over the world and from every brand imaginable to be at the trade show.
As far as pricing is concerned, only Europe has been reported as the market for the Audi TT RS. A price tag of €66,400 (approx. AU$96,960) for the Audi TT RS Couple and €69,200 (approx. AU$101,050) for the Audi TT RS Roadster have been confirmed. This does not mean that a U.S. release will not happen, as there are talks with Audi of America as for availability and even pricing of the Audi TT RS.
Audi TT RS showcased in Beijing Motor Show 2016 (Credit: YouTube/CarPark)
MEET IBT NEWS FROM BELOW CHANNELS