Adele appears to announce her second baby on Phoenix concert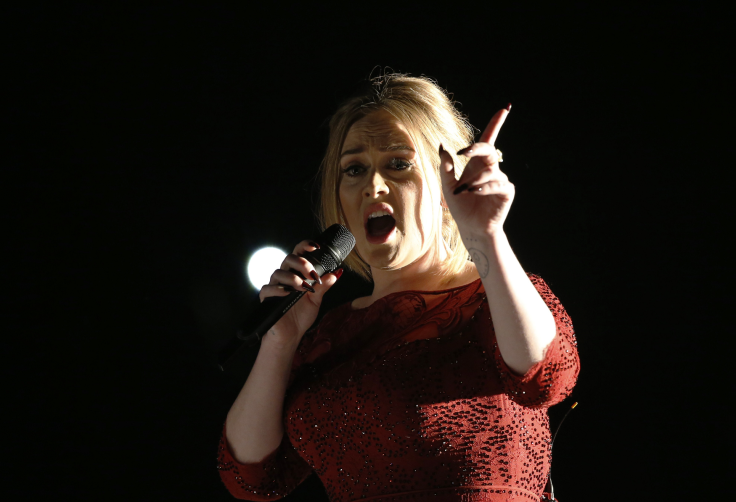 Adele appeared to have proudly announced on Monday that she is going to have another baby as she concluded her US concert at The Talking Stick Resort Arena in Phoenix. The 28-year-old singer's announcement fuelled speculations that she was either expecting a baby or planning a second child with her longtime partner Simon Konecki.
"Give it up for my band! Give it up for me! I did it! I'll see you on the other side. In a couple of years, I'll be back, and you won't be able to get rid of me. I'll be back, and you won't be able to get rid of me. I'm going to have another baby," Adele said, according to E! News.
However, moments later, she raised a champagne glass with her band and told her fans that she is not going to have a baby.
"I'm not going to have any because I've got my glorious white wine, and I can't drink it because it wreaks havoc with my acid reflux."
After the show, Adele shared a photo in Instagram of a homemade banner created by her four-year-old son Angelo.
"I just finished my 107 shows in 10 months. 100 percent live every night. I bloody smashed it, even if I do say so myself. You lot have been incredible, every night you've been so beautiful, loving and engaged," Adele posted on Instagram. "My band and my crew you made the whole thing turn. And my beautiful family made it easy for me to do."
Adele revealed during her concert in St. Paul that she will be taking another break from music after the concert tour.
"My kid is starting school, you see—hence why I'm so busy trying to get all my shows out of the way. I don't think I'll be away for as long," she told her fans.
READ: Adele announces Australian Tour plus ticket prices and schedule
Adele is set to perform in Australia in 2017. On Monday, the tickets went on sale but some fans were left empty-handed as they tried to secure tickets to Adele's concert. On Tuesday, Ticketek and Ticketmaster announced an update on the ticket sale on Twitter.
MEET IBT NEWS FROM BELOW CHANNELS