Why Princess Diana continued to wear her engagement ring after divorcing Charles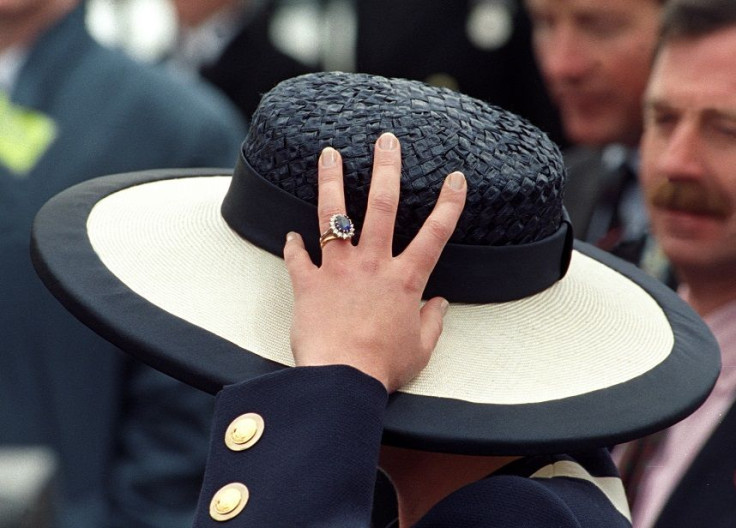 Princess Diana's marriage to Prince Charles ended in 1992 when they were granted official separation, but she still wore the symbol of their union five years later. The Princess of Wales continued to wear her famous engagement ring and wedding band until days after their divorce was finalised on Aug. 28, 1996, and there's only one reason for that.
Defying tradition, Diana chose her diamond and sapphire engagement ring, which her daughter-in-law Kate Middleton now wears, from a selection presented by royal jeweller Garrard. The women before her in the royal line have had their engagement rings custom-made.
According to the Daily Mail, after dining with Queen Elizabeth II at the Windsor Castle in February 1981, Diana and Charles retired to the drawing room to choose from a dozen rings the jeweller brought from London. She chose her favourite immediately, the famous oval Ceylon sapphire ring surrounded by 14 diamonds set in 18-carat gold. It cost £28,000, or £110,000 (AU$179,700) in today's money, but it was valued at £250,000 (AU$408,489) in 1997 because of its royal connections.
Her wedding ring, a simple band that was often overshadowed by her enormous engagement ring, at least came from the same mine in Gwynedd that was used by five royal brides, including then-Princess Elizabeth, Princess Margaret and Princess Anne. There reportedly is an inscription engraved inside of the ring, but only the former Crown jeweller at Garrard, David Thomas, had apparently seen it.
The couple wed in 1981 in a lavish ceremony fit for a future king and queen. But as it happened, their marriage did not last. They separated in 1992 and got officially divorced in 1996. Diana was not one to shy away from calling her marriage a failure, blaming Charles' relationship with Camilla Parker Bowles as the main reason.
As someone hurt by her husband's affair, Diana curiously still wore the rings Charles gave her for their engagement and wedding even days after their divorce. It was not because she was still pining for Charles as their marriage was "irretrievably broken down" already. It was allegedly because she respected her two sons, Prince William and Prince Harry, who were just 14 and 11 years old at the time of her divorce.
After the decree nisi of her divorce came through, she was still seen sporting the rings during a visit to Eton College with Charles and their sons on Sep. 5, 1996. Two days after, she opted for a dramatic but silent announcement that she was completely free from her marriage by appearing at a red carpet premiere of a film in London. She was wearing a clinging short Versace dress and fiery red nail polish, bringing the crowd's attention to her ring-less hands.
Kate now wears Diana's engagement ring
The iconic sparkler is still very much visible these days on the hand of another popular royal. William offered the ring to Kate when he proposed marriage to her. According to reports, William and Harry were asked to choose one item from their mother's jewellery collection, and William chose her Cartier watch while Harry chose the ring. However, they also allegedly had an agreement that whoever had to propose marriage first would get the ring. And therefore, it appeared that Harry sacrificed the sapphire-and-diamond band for William and Kate.
MEET IBT NEWS FROM BELOW CHANNELS