'Vikings' season 5: Love is in the air for Lagertha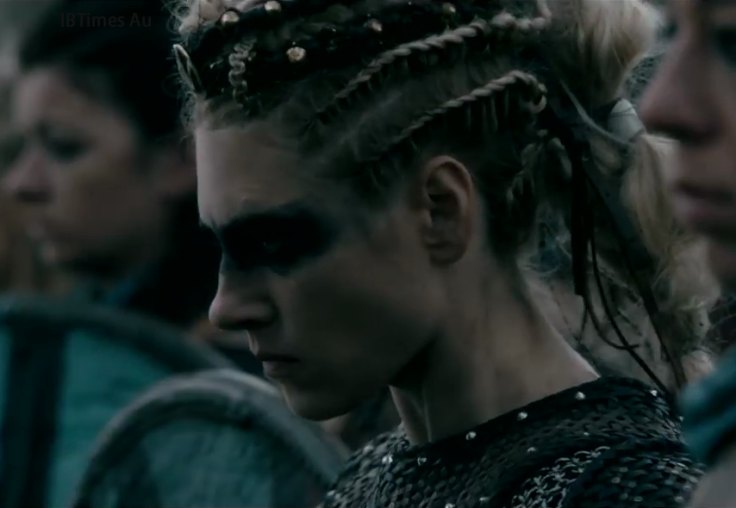 Lagertha (Katheryn Winnick) may have lost the war, but her story is far from over in "Vikings" season 5. In a recent interview, Winnick talked about her character's journey, and what her attraction towards Bishop Heahmund (Jonathan Rhys Meyers) means.
Season 5 so far has been devastating for Lagertha, Winnick pointed out in a video that has been released online [see below]. The queen has lost her kingdom, her family, and her people. She is on the run and her hair has turned grey, but she refuses to believe that this is the end of her story.
One glimmer of hope that Lagertha has comes from Heahmund. The warrior priest wants her to head to Wessex, and seek refuge with the Saxon king there. Lagertha doesn't have a choice, and she will take this advice.
Lagertha is strongly attracted to Heahmund, but Winnick said that she's not sure her character trusts the Saxon warrior. She pointed out that she hasn't been this attracted to a man since Ragnar (Travis Fimmel), but she is going to rely on only herself. Winnick pointed out that her character has a hard time trusting anyone.
"The only person she can really trust is herself. She has to find her own way," Winnick said about her character. "Lagertha will come back. Kattegat has not seen the last of her."
The trailers of the next part of season 5 tease Bjorn (Alexander Ludwig) making one last attempt to take Kattegat. Will he succeed? Will Lagertha once again get to rule Kattegat?
The Seer (John Kavanagh) has already prophesised Lagertha's death at the hands of one of Ragnar's sons. Ivar (Alex Høgh Andersen) has also sworn to kill Lagertha. It remains to be seen if the queen's story will come to an end in season 5 or if she will get to live just a little longer.
Credit: Vikings/ Twitter
MEET IBT NEWS FROM BELOW CHANNELS