'Uncharted 4,' 'I Am Setsuna' and more summer sales already ongoing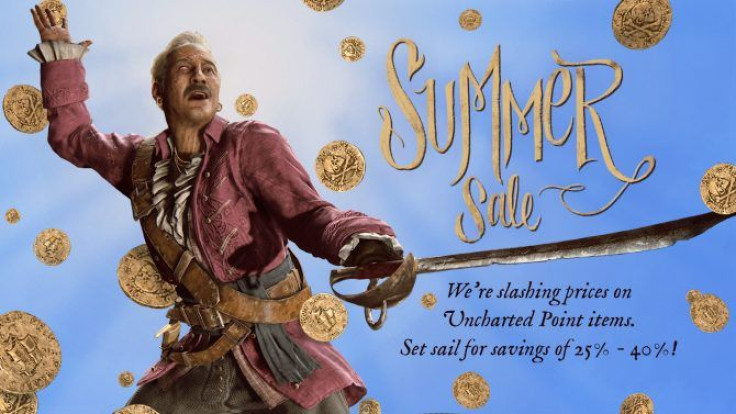 PS4 and PC players can look forward to a new set of sale for particular titles, the most notable of which is "Uncharted 4." Sony's Summer sale is looking at "Uncharted 4" as its kickoff point towards offering more games to players.
For four weeks, PS4 players can look forward to big discounts from somewhere between 25 and 40 percent for Uncharted Points that are purchased via the multiplayer store.
"With 'Uncharted 4' multiplayer, we wanted to give players more choice—whether it's more ways to personalize your character, more variety in weapons and gear, more control over your loadouts, or new ways to celebrate victories over your enemies," said Naughty Dog Community Manager Scott Lowe to PlayStation Blog.
Part of the sale includes some community favourites, such as the Chloe character new skins, more gameplay items and new weapons. Players who prefer a more wholesale buy can opt for the Scalleywag or the Git Gud bundles.
"Uncharted 4" players should make sure to check out the in-game multiplayer or the PlayStation Network. Uncharted Points will be available from a wide range of options, from the smallest featuring 500 Uncharted Points Pack to the 10,000-UP pack. The only catch here is that players may want to get the bigger bundle to get a bigger bonus.
"I Am Setsuna" will also be discounted over at GMG. The company is slashing 20 percent off its price tag in time with the recent launch. Escapist Magazine also mentioned that this is the start for the summer sales of PC games.
The likes of Bethesda titles, Telltale games and space PC titles are up for grabs at a discounted price, depending on the online retailer.
Green Man Gaming still has nine days' worth of sales, as it will run until July 30. The company has levelled up the summer sale by offering three mystery bundles, namely the 1, 5 and 10 the 1 Pack features one unspecified game for US$0.99 (approx. AU$1.32). The 5-Pack Mystery bundle has five games worth US$3.99 (approx. AU$5.30). Finally, the Mystery Bundle 10 Pack is only offered for only US$5.99 (approx. AU$7.99). The full list of games on sale can be seen in the link above.
MEET IBT NEWS FROM BELOW CHANNELS