'Star Wars Rebels' season 3 episode 19 'Twin Suns' preview video: The end of Maul teased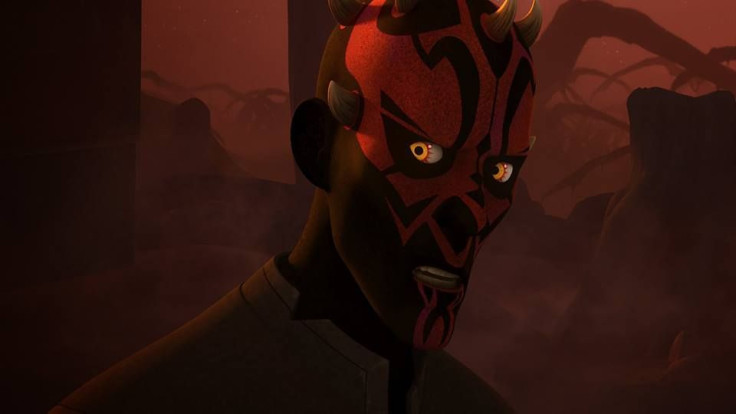 After another filler episode, Maul is back in "Star Wars Rebels" season 3 episode 19 titled "Twin Suns." As the name suggests, the former Sith Lord will go in search of his old nemesis. A preview video teases the possible "end" of the popular character. The following article contains spoilers.
Wandering alone in the deserts of what maybe Tatooine, Maul (Voice by Sam Witwer) is lost. The preview video shows he feels he is close, but is unable to find Obi-Wan Kenobi (Voice by James Arnold Taylor). The frustration of not finding the old Jedi Master makes the character cry out. He is concerned that this may finally be "the end" for him.
Maul has his Holocron with him, and he eventually meets Obi-Wan warming himself near a bonfire. The anger and hate-filled former Sith wants to kill the Jedi, as it was the latter who defeated him on the planet Naboo. The defeat not only led to the loss of limbs for the character, he also lost everything. "Star Wars Rebels" season 3 episode 19 will give the character a chance at vengeance.
Obi-Wan is expected to come out unscathed from this encounter, so it is not looking good for Maul. But will the franchise kill off such a popular character in the animation series?
The synopsis of the episode reveals that Ezra Bridger (Voice by Taylor Gray) will also be involved in the fight between these two old enemies. The young Rebel will get another vision of Maul, making him defy the orders of Hera (Voice by Vanessa Marshall) and Kanan (Voice by Freddie Prinze Jr.) He will travel to this planet with twin suns in order to stop whatever the former Sith is planning.
Ezra had also seen the vision of the twin suns before but was unable to understand which planet it is in the galaxy. There are billions of planets out there, and many of them are desert planets just like Tatooine. Will the young Rebel finally put the clues together and reach the planet before somebody gets killed?
The previous ambition of Ezra was to find a way to destroy the Sith. Obi-Wan knows how this will eventually come about, and a new hope for the Jedi is actually growing up in Tatooine. All they have to do now, actually, is have patience and wait. In the meantime Ezra may find out the key to the plan in "Star Wars Rebels" season 3 episode 19.
Credit: YouTube/ Star Wars
MEET IBT NEWS FROM BELOW CHANNELS