Ruby Rose and Nina Dobrev prank wars: 'xXx: The Return of Xander Cage' co-stars are hell-bent in winning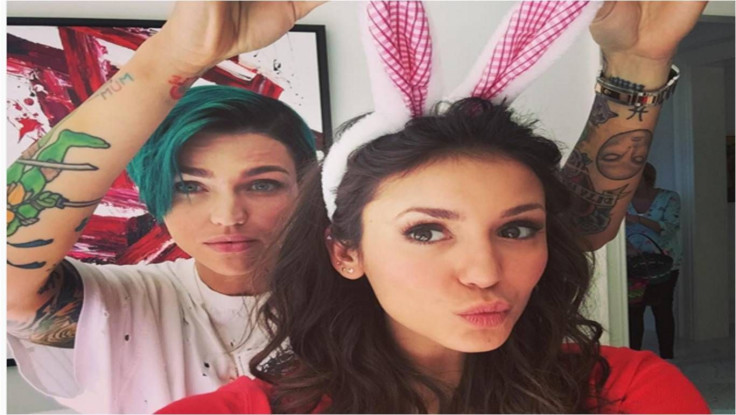 "Orange is the New Black" star Ruby Rose has taken Nina Dobrev's last week's April Fools prank seriously, and both beauties have notched up their prank war. Just like the Vin Diesel-starrer "xXx: The Return of Xander Cage" will be a menacing hell ride for speed freaks, this real Ruby Rose vs. Nina Dobrev battle is also heating up and fans are eagerly expecting what their next prank will be and who will finally win the prank wars.
It all started last week when "Vampire Diaries" star Dobrev freaked the hell out of Rose while the latter was entering her trailer. Dobrev posted the video of Rose's reaction in slow motion and that started off the war. Rose is seen in the video showering expletives at Dobrev, all in a light spirit.
"When your friend is an a--hole ... Also obviously she edited me to say those awful things and OBVIOUSLY I HAVE AN INNER SUPER BOGAN I thought I left behind," Rose captioned the same video she reposted.
Knowing the girl Rose is, she started plotting revenge, right after Dobrev's April Fools prank. Instead of going on the same lines as Dobrev, Rose upped the ante by filling Dobrev's trailer with photos of her. She didn't leave any surface unplastered.
"After I scared the crap out of her last week, she retaliated back. In true Narcissist fashion. By covering my entire trailer with photos of herself. Stay tuned y'all. The war has begun ... Watch your back Rose ... Watch your back," Dobrev shared a video of the revenge and captioned it.
She also reposted the same video shared by Rose, which has Radiohead's "Creep" playing in the background. Dobrev appreciated the musical touch but also vowed that she will get back at Rose soon.
"RUBY!!!! Hahah the music is a nice touch. Oh, it's on. Get ready ... About to wreak havoc on @rubyrose," Dobrev wrote.
Awesome was Dobrev's reaction when she walked into her Rose's photo-infested trailer. Thankfully, Rose captured the moment for her fans.
"When you go to say hi to @ninadobrev but she has 100 photos in her trailer of you and it's awkward because you're trying to be professional," Rose captioned the video on Instagram. Check out Dobrev's reaction below.
Rose has definitely won the round, but Dobrev will come back strong, at least that's what the fans are expecting. May Rose and Dobrev continue their prank wars, at least the fans will be tied up till "xXx: The Return of Xander Cage" hits the big screen on Jan. 20, 2017.
MEET IBT NEWS FROM BELOW CHANNELS