'Rogue One: A Star Wars Story' will not unfold the way you think; Director teases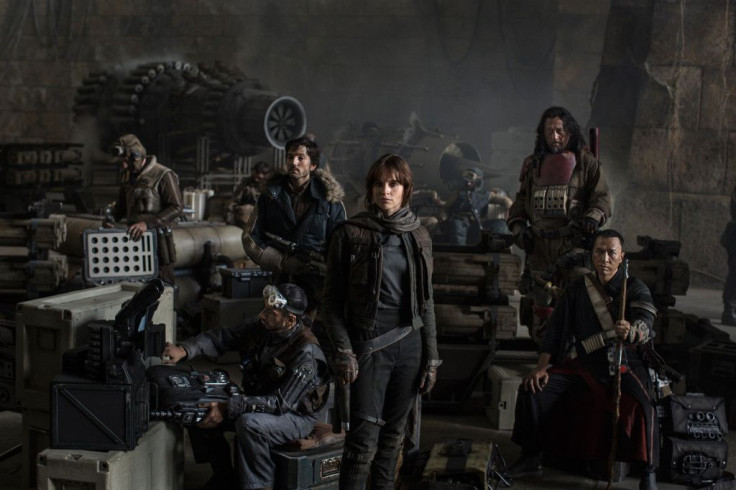 Two new stills from "Rogue One: A Star Wars Story" have been released online, teasing the plot of the film. Director Gareth Edwards has teased that the film will not unfold in a way that the fans expect it to. The posters and the directors words are focused on the protagonist Jyn Erso.
[Spoiler alert]
A new still from the upcoming movie has been released on USA Today. The picture shows Jyn Erso (Felicity Jones) in handcuffs and being escorted by the reprogrammed Imperial droid that now works for the Rebels - K-2SO (Alan Tudyk). The report notes that Jyn is a "reluctant hero" who is recruited by the Rebels to lead a team to steal the plans of the Death Star.
Edwards teased that events in Jyn's life "shatter" everything and send her off to be raised as a soldier in the midst of a war. So, she grows up to be a person she was not supposed to be. The journey of Jyn in "Rogue One: A Star Wars Story" is very similar to the one of Luke Skywalker (Mark Hamill) in the original trilogy. The director explained that even though his film doesn't tell Luke's story, it was important for him to capture the same theme and emotion of the young Jedi.
Jyn's father Galen Erso (Mads Mikkelsen) is a brilliant scientist whose research on laser technology is the key to building the weapon on board the Death Star. In the movie, Jyn attempts to correct her father's mistake, just as Luke did in the original trilogy.
However, Edwards teased that the movie "doesn't unfold how you think." Jyn's path in the film will not be the same one as Luke's in the original trilogy.
Fans who have watched the original trilogy know whether Jyn will be successful in her mission in "Rogue One: A Star Wars Story." Speaking with Entertainment Weekly, Edwards explained that the challenge for the team was not to figure out how the film will end, but to "reverse engineer" the start. The report also shows another still from the movie.
MEET IBT NEWS FROM BELOW CHANNELS