'Rogue One: A Star Wars Story' spoilers: A rebellious new hero in the galaxy in first trailer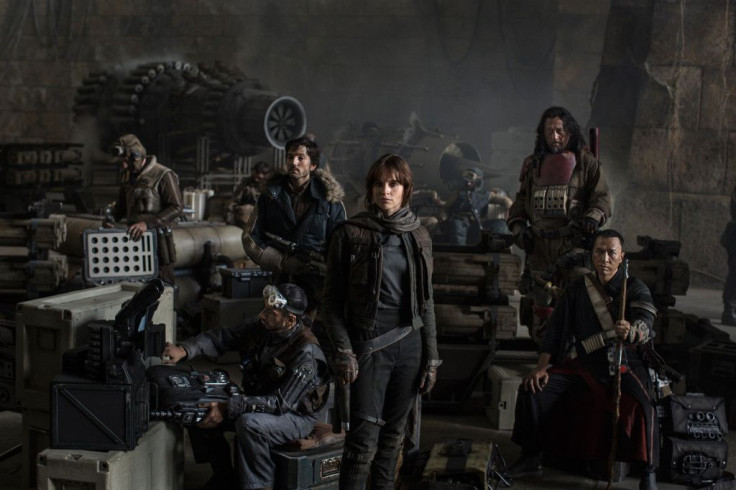 The first trailer of "Rogue One: A Star Wars Story" has introduced a rebellious new hero in the galaxy. Felicity Jones plays the role of the protagonist Jyn Erso in the movie and the trailer teases details about the character.
[Spoiler alert]
Jyn is not a part of the Rebellion, but someone the rebels find and recruit for their cause. The trailer shows the rebels arresting Jyn and reading out her "crimes," which mostly relate to her actions against the Empire.
After realising that she has been captured by the Rebellion, Jyn chooses to "rebel." Mon Mothma (Genevieve O'Reilly) smiles at the declaration. But, in the end Jyn is chosen to lead a group to steal the plans for the Empire's new superweapon.
Shots of the Death Star, which is capable of destroying an entire planet, can be seen in the trailer along with a few Star Destroyer ships. The weapons test of this massive station is imminent and the Rebellion is eager to find a way to destroy the weapon in "Rogue One: A Star Wars Story."
The trailer also shows a scene of the new antagonist in the movie in the form of an Admiral working for the Empire. The character can be seen wearing a white uniform and holding a blaster in his hand.
Apart from the familiar costumes of the soldiers in the Empire as well as the Rebellion, there are some new additions in the movie. The Sith will also return in the movie and a figure wearing a black cloak is featured in the trailer.
Fans of the franchise will also notice the red Imperial guards in the trailer, indicating that the Emperor may be seen in "Rogue One: A Star Wars Story." The movie will also show the AT-AT assault vehicles of the Empire in action.
Credit: YouTube/ Star Wars
MEET IBT NEWS FROM BELOW CHANNELS