'Poldark' season 3 spoilers: Eleanor Tomlinson concerned about fan reaction to plot twist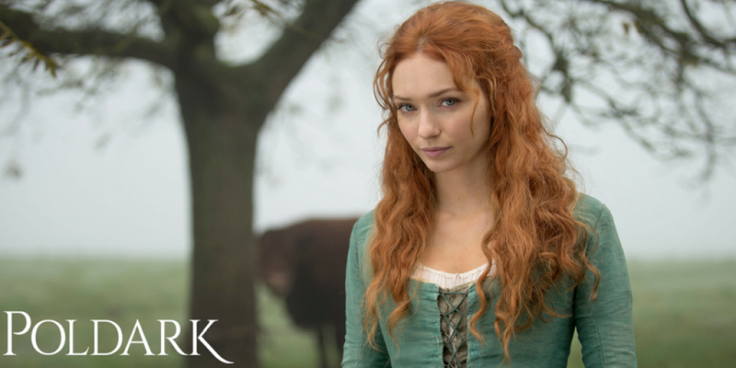 There is a big plot twist coming in "Poldark" season 3, which will have an impact on the tense relationship between Ross and Demelza. The one person concerned about how the fans will react to this is Eleanor Tomlinson, who plays the role of the miner's wife. The following article contains spoilers.
There is a new character being introduced in the show this year, which should have Ross (Aidan Turner) concerned. Hugh Armitage (Josh Whitehouse) is both an aristocrat and a romantic. The new character's interest in Demelza (Eleanor Tomlinson) will be the cause of yet another friction between the couple.
Speaking with The Sun, Tomlinson revealed that Armitage pays her character some attention, "which is nice," she said. However, it will not be so nice when Ross finds out about it. After all, despite the troubles the couple has been through, they are still man and wife. The hot tempered miner will not be happy about another man coming in to try and steal his wife away.
Things may get out of hand when Demelza kisses Armitage. Will Ross be able to tolerate his wife cheating on him, especially when he knows how he betrayed her first? The couple was able to finally put the past behind them in the previous season, but the entry of this romantic aristocrat and the pregnancy of Elizabeth (Heida Reed) are sure to open old wounds.
Tomlinson, on the other hand, is more concerned about the possible fan backlash after seeing her character betray Ross. The actress said that she is bracing herself. She said that she is "intrigued" to see how the fans react to the plot twist.
Meanwhile, "Poldark" TV series has been nominated for the Best Drama Series at the TV Choice Awards 2017. Cast members Turner and Tomlinson have also been nominated for Best Actor and Best Actress awards respectively.
Credit: Official Poldark/ Twitter
MEET IBT NEWS FROM BELOW CHANNELS