'Poldark' season 3 has a 'darker tone'; Eleanor Tomlinson reveals reason behind winter filming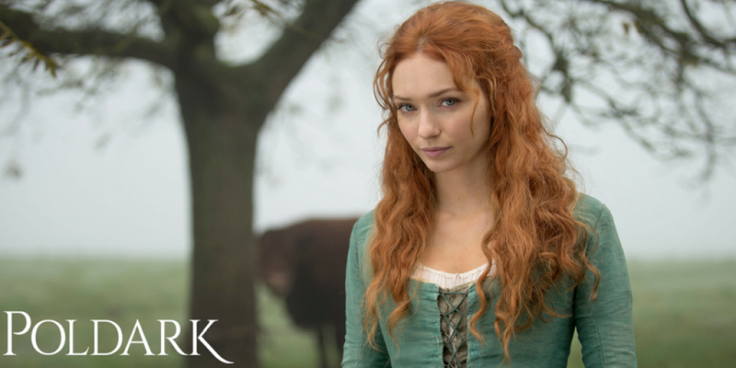 The trailer of "Poldark" season 3 may have been all sunshine and smiling faces, but the show will have a "darker tone" this year. In a recent interview, cast member Eleanor Tomlinson talked about filming, and teased some details about the popular TV series.
In an interview with Radio Times, Tomlinson (Demelza) spoke about nearing the completion of the filming for the new season. The actress described the plot as "exciting" because there a lots of new characters being introduced this year, which means there are a lot of new storylines to explore.
Tomlinson confirmed that a lot of the filming took place during winter. So, there is a "darker tone" to the show this year. Ross (Aidan Turner) has been through a lot, both professionally and personally, but his actions in the previous season strained his relationship with his wife. There appears to be more heartache for the couple as the story moves forward.
While Demelza was more of a victim in the previous season, Tomlinson pointed out that her character is not without her flaws. The fans will get to see some of those flaws in "Poldark" season 3, the actress promised.
Talking about the heart wrenching second season, Tomlinson said the storylines were "stronger" and the audience was able to connect with the characters more after seeing the journey of the characters, which showed the challenges of life and marriage.
But, it will not be all drama and pain this year. There will also be some cheerful things to look forward to. Tomlinson promised there will be lots of love and romance. At the same time, she teased that there will be "challenges" that Ross and Demelza have to face. The actress did not elaborate on what these new problems will be. Apart from George (Jack Farthing), some of the other characters may stir up trouble.
BBC is yet to announce the release date of "Poldark" season 3. There has been some talk of the show premiering in spring, to make sure that it doesn't clash with the other popular series "Victoria." Tomlinson admitted that it was a "shame" to see the two TV shows clash like that, and this may have divided the audience. But, the actress said that she has no idea if such a decision has been taken, and for the reasons being talked about. She also emphasized the point that her show can hold its own and face the competition.
Credit: YouTube/ BBC
MEET IBT NEWS FROM BELOW CHANNELS