'No Man's Sky' explains how lore replaces linear storytelling, reveals new accompanying comic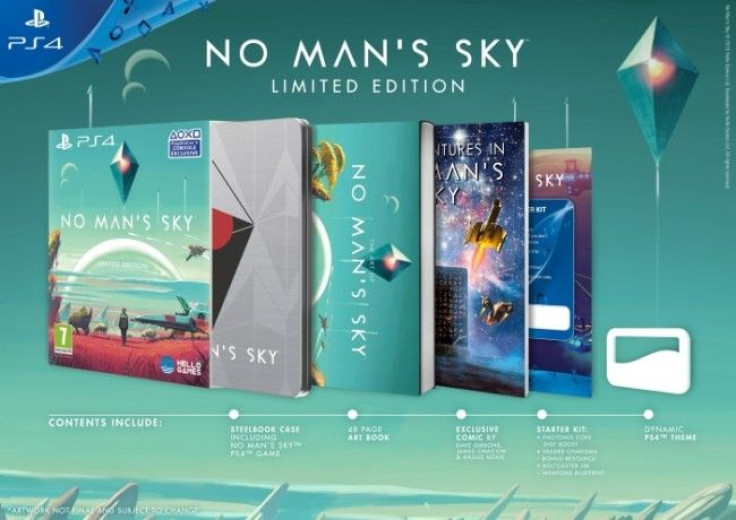 "No Man's Sky" developer Hello Games is taking a break from giving more sneak peeks via glimpses of the gameplay. This time, in a new teaser update, the developer has released a video that talks about storytelling in the game's universe.
Revealed over at the PlayStation Blog, Hello Games founder Sean Murray confirmed that there will be no cut scenes or a traditional linear story in "No Man's Sky." What will be in the story is a lore, where everything is supposed to exist because of a reason.
"When you see a building, we've tried to think of who might have built it, and why. It's something we're excited to see fans uncover as they play, and put their own interpretations on," said Murray over at PlayStation Blog.
Alongside the reveal of the lore foundation of "No Man's Sky," the developer also revealed a limited edition for the game. The video also showed Dave Gibbons and James Swallow who are responsible for "Watchmen" and "Star Trek" respectively. Here, they mention the project they are creating, "Adventures in No Man's Sky," the comic that will come with "No Man's Sky" limited edition.
This limited edition had been earlier reported by GameSpot. The comic is said to have two stories that will be set in the game's universe. The limited edition version of the game also features an art book, a PS4 dynamic theme and some bonus in-game DLC for US$80 (approx. AU$105). This seems like a pretty good addition for those who can spend US$20 (approx. AU$26) more compared to just getting the Standard Edition of the game.
The video below shows off more about what the lore happens, and how lore building was for Hello Games. Gibbons and Swallow also share their experience in creating a universe.
"It's got such scope that in our earlier discussions, we came to the conclusion that you can set all kinds of stories within that universe. You could write virtually any kind of science fiction exploration, battle, trading, love story, anything that you want to," said Gibbons in the video.
It appears that Gibbons was the one who proposed an idea of creating a comic for "No Man's Sky" for added value in the game. For the developer, this was a way to expound more on the universe, and give some form of grounding for players, amidst all the freedom given to them. For Gibbons, he had focused on a story about a trader who had been carrying a valuable cargo in "No Man's Sky."
The collaboration among the developer and the two storytellers is a great way to give a glimpse of the overall lore that "No Man's Sky" has. This also makes the limited edition even more inviting than before.
MEET IBT NEWS FROM BELOW CHANNELS