'The New Celebrity Apprentice': Arnold Schwarzenegger quips about smashing Donald Trump's face into table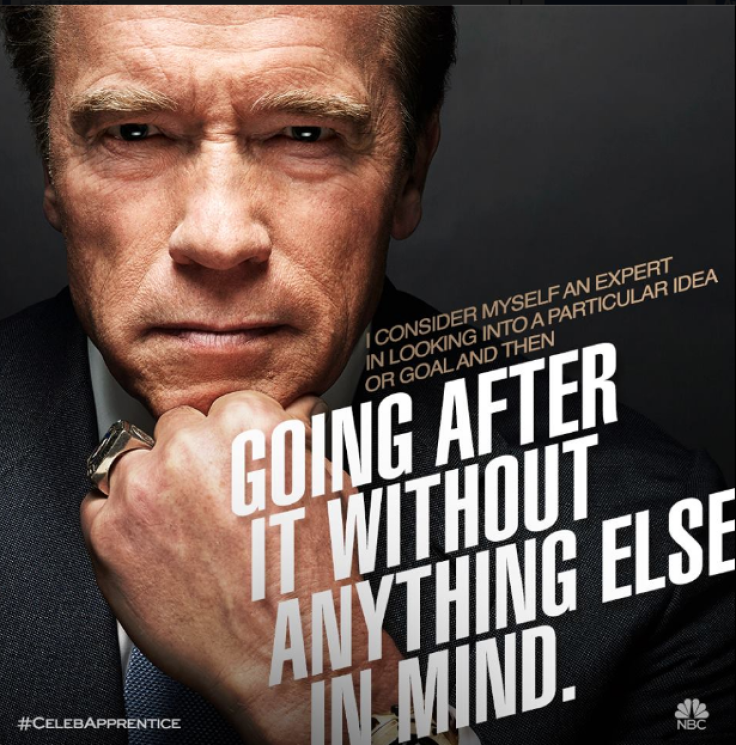 "The New Celebrity Apprentice" host Arnold Schwarzenegger was once again targeted by Donald Trump, who this time called him a bad former governor of California, even worse than being the host of the show. Schwarzenegger recently quipped in an interview that he wants to smash Trump's face into a table.
After blaming Schwarzenegger for the show's dropping ratings, on Feb. 3 Trump once again targeted him calling him a bad governor of California in a tweet. Arnold released a video on Instagram in which he tells him, "Why don't we switch jobs? You take over TV, because you're such an expert in ratings, and I take over your job. And then people can finally sleep comfortable again." (See Trump's tweet and Schwarzenegger's Instagram post below.)
In a recent interview, Schwarzenegger joked about how he wants to smash his face into a table. "I called my assistant and said, 'I think what we really should do is request a meeting and go back to New York. And then we just smash his face into the table.'"
"And then I think we can't do that, either. I think I have to be above all of that and put him on the spot," he added.
The public spat between Donald Trump and Arnold Schwarzenegger started when the latter took the former's chair as host of "The New Celebrity Apprentice." While Trump said that he walked out of the show with respect in order to concentrate on his presidential campaign, several reports suggest that NBC cut ties with him after his controversial remarks in his campaign, which started in 2015. Since then, the duo has gotten involved in controversies quite a lot of times.
During the presidential campaign, Arnold urged his fellow Republicans to "choose your country over your party." This, apparently, didn't go down well with Trump. He shot back in January this year, criticising Schwarzenegger and blaming him for "The New Celebrity Apprentice's" dropping TV ratings of the show on Twitter.
Arnold Schwarzenegger also replied to him in a tweet. "There's nothing more important than the people's work. I wish you the best of luck and I hope you'll work for ALL of the American people as aggressively as you worked for your ratings," he wrote on Twitter. In an interview later, "The New Celebrity Apprentice" host called Donald Trump's immigration ban "crazy" and said that it makes the country "look stupid." (Read more about this story on the link below.)
Read related: 'The New Celebrity Apprentice' host Arnold Schwarzenegger calls Donald Trump's immigration order 'crazy'
MEET IBT NEWS FROM BELOW CHANNELS