'MasterChef Australia' 2017: Benita's exit brings many to tears; Emergency replacement sauce not enough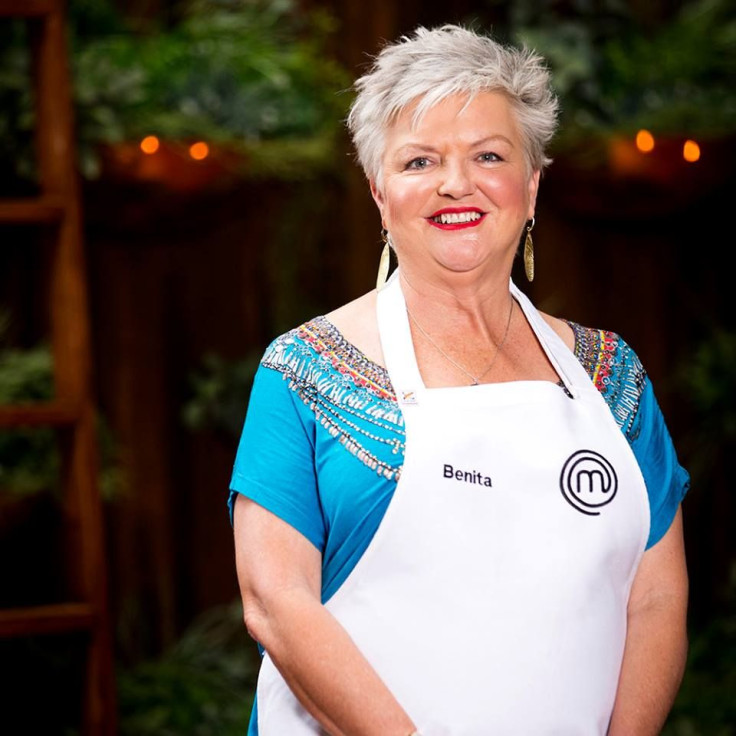 "MasterChef Australia" 2017 Season 9, Episode 15 saw Pete, Nicole, Benita, Ben and Arum participate in a Time Shopping Elimination Challenge. Every participant had 90 minutes to shop for the ingredients.
Each pantry of ingredients cost different time limits to spend for their ingredients. Pete bought pistachios, sugar, vanilla beans and cherries for 25 minutes. Benita bought kecap manis, coriander, ginger and prawns for 45 minutes. Ben spent 15 minutes on vanilla beans, artichokes and John Dory. Nicole and Arum spent 20 minutes to cook with pistachios, sugar and ginger. Arum, Ben and Pete were declared safe by the judges. Pete had issues plating his cake but it tasted really good. Arum and Ben were both praised for their dishes.
This put Nicole and Benita at the receiving end. Nicole's pudding lacked sauce and was dry. Benita went through hiccups during her allotted cooking time. She produced an underwhelming dish despite her efforts to improvise her burnt broth. This was not enough and Benita was eliminated from the competition. Emotions flew high as the 57-year-old Brisbane mother-of-two departed. She was the oldest contestant. Forty-nine-year-old Pia Gava, who was the second oldest, has also been eliminated.
Benita's exit had Nicole and Callan in tears. Benita had auditioned four times to be on the show. She was extremely upset and totally gutted. She did not feel like going and was cranky with herself. Benita had spent 45 minutes in shopping for ingredients and this proved costly for her in the end. The judges praised her ability to think on her feet but weren't really impressed with the dish. The judges also said that her emergency replacement sauce showed great initiative but was not enough as others produced some really great dishes.
Benita's food dream is to create a Ladies Long Lunch event business. Since her elimination, she has gathered experience at the Putia Pure Food Kitchen in Brisbane, writes News.com.au. Before bidding goodbye, Benita had a personal message for the contestants. She advised them not to ever think they are growing too old to do something. "If you've always had a dream and you still haven't achieved it, go and do it," she said. In the previous episode, the contestants were divided into Red, Yellow, Blue and Green teams.
Benita was the captain of the Green team. Unfortunately the team Green was sent to elimination as the members could not highlight the core ingredient Maple Syrup. Read 'MasterChef Australia' 2017 Season 9 Episode 14: Missing core ingredient maple syrup sends Team Green to elimination to know more.
MEET IBT NEWS FROM BELOW CHANNELS