Kuwaiti beauty blogger Sondos Alqattan loses more sponsors, Mac, Shiseido, ABH etc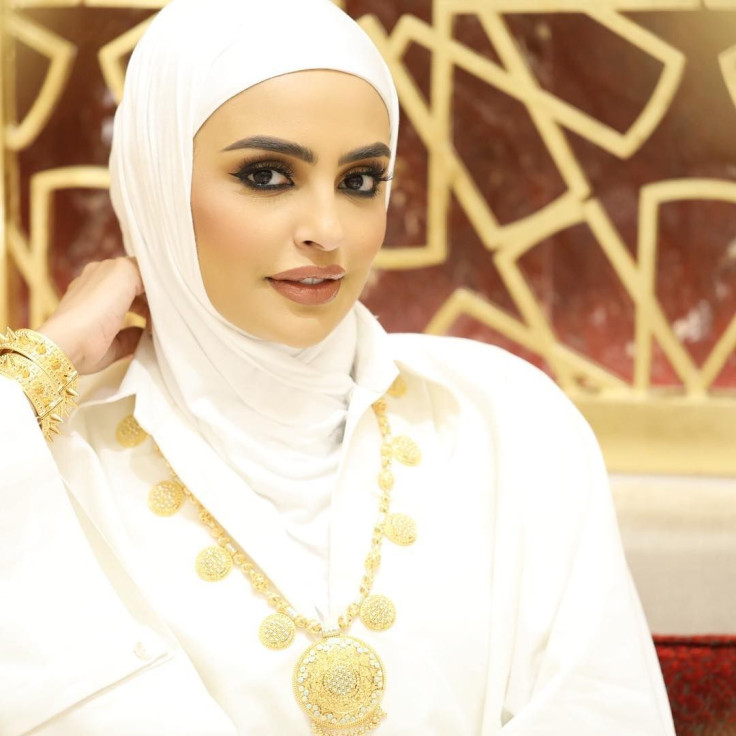 Sondos Alqattan has lost more brand sponsors following her controversial statement on overseas Filipino workers. The Kuwaiti beauty blogger has refused to apologise for saying domestic workers from the Philippines should not be given one day off a week and even doubled down on her opinion.
Alqattan gained worldwide notoriety earlier this month after she posted a now-deleted video on Instagram criticising the new law signed by the Philippines and Kuwait that improves the working conditions of Filipinos in the Gulf nation. The agreement includes a day off per week for the employees and letting them keep their passport.
Alqattan didn't agree with it, saying in her video that her housemaids might run away during their day off if they had their passport with them.
Her video has since become viral, with social media users unanimously condemning her statements. They have compared her to a slave owner who believes her domestic helpers are her possessions.
Alqattan did not back down, though. "Don't judge a person without full understanding of the situation. Just because you don't agree, doesn't mean that you're right!" she wrote on Instagram, including a longer statement on why she believed her earlier statement was correct. She also thanked critics who called her "beautiful from the outside but not necessarily the same from the inside."
Social media users have since called for her sponsors to drop her. Max Factor, British brand Chelsea Beautique and French perfume M. Micallef were the first ones to cut their ties with Alqattan.
More brands have since followed. Mac Cosmetics told CNN on Friday that it is not currently in partnership with the blogger and "will no longer be working with her on any brand activities."
Japanese cosmetics brand Shiseido has also dropped the Instagram influencer, saying it also isn't currently working with her. "We have no plans to work with her again in the future."
"Shiseido does not support or align with the recent statements made by Sondos Al Qattan. In pursuit of its mission to 'inspire a life of beauty and culture,' Shiseido aims to be an important and trusted corporate entity, accepted by society and consumers worldwide. Shiseido understands that it must respect the human rights of all persons as a prerequisite to conduct business activities for its sustainable growth together with the global society. Shiseido is not currently working with Sondos. We have no plans to work with her again in the future," the company's statement reads.
When a Facebook user questioned its affiliation with Alqattan, US cosmetics company Anastasia Beverly Hills (ABH) responded that it is not involved with the beauty blogger. "As a result of her statements, ABH has unfollowed Sondos and removed her from our PR list."
In a statement posted on Instagram, haircare brand Phyto said it denounced Alqattan's behaviour and has therefore cut ties with her immediately.
"We were surprised and troubled when hearing about the cruel comments made by @sondos_aq and do not tolerate any kind of racism and abuse. Soon after finding out about her dreadful actions, we contacted our local distributor in Kuwait and requested that any partnerships with Ms Alqattan were put to an end effective immediately. We take our brand's values very seriously and will not support such behaviour or have it associated with our products," the statement partly reads.
The Middle East branch of the Korean cosmetics company Etude House has responded to users calling for it to drop Alqattan, saying it agrees with the laws protecting all domestic workers. "The recent comments made are personal comments and are not associated with the brand," it says. However, as commenters have noted, the company still works with Alqattan.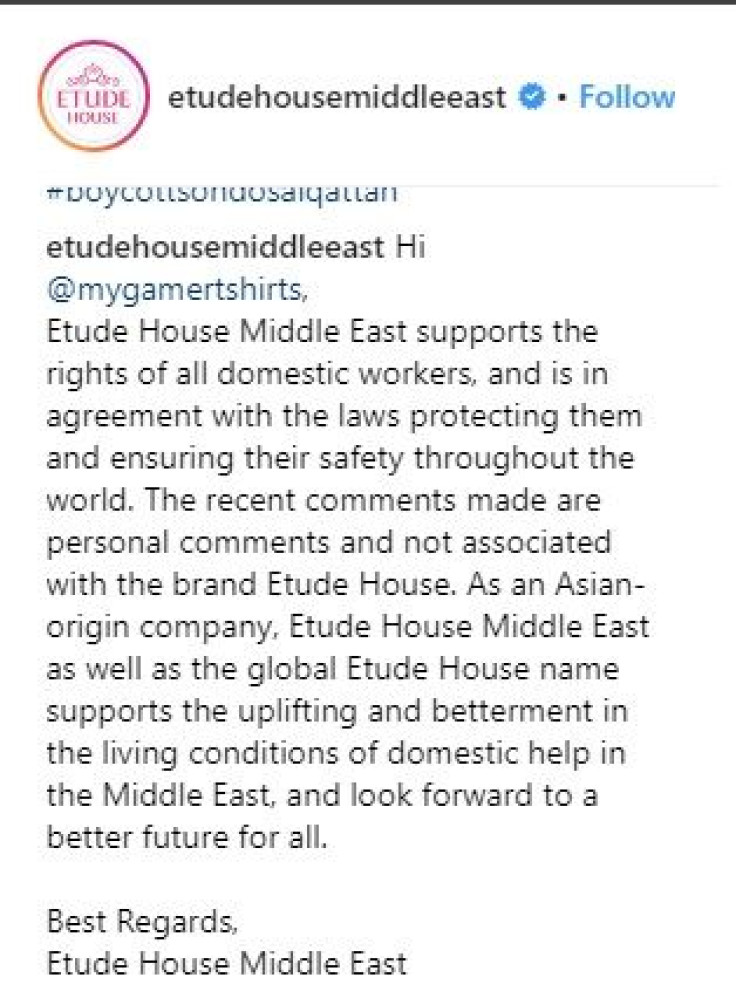 MEET IBT NEWS FROM BELOW CHANNELS