'Game of Thrones'' Khaleesi reveals her secret naughty desire, speaks nudity in TV show and Khal Drogo's member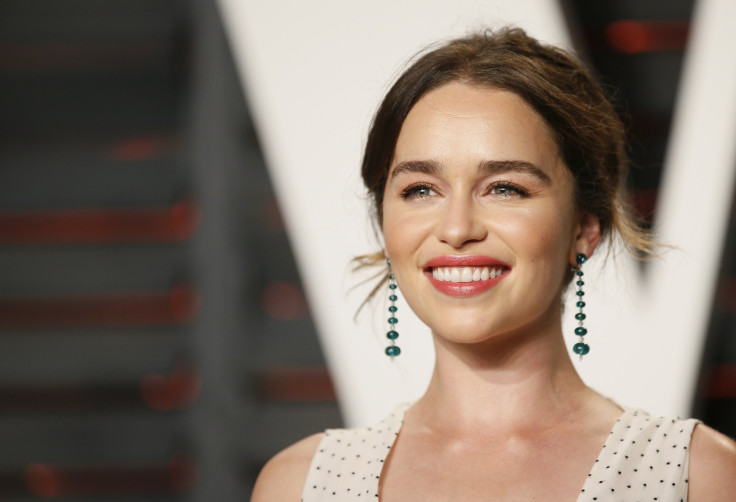 Emilia Clarke, who plays Daenerys Targaryen or Khaleesi in "Game of Thrones," recently revealed why she wants to win the Iron Throne, and it is not only to rule the Seven Kingdoms. In an interview with Glamour Magazine, Clarke was asked what storyline she would like to see if she were writing "Game of Thrones."
Clarke was quick to answer that she would love to see Daenerys and her three dragons on the Iron Throne, eat barbecued goats and check out penises of all the pretty boys. Well, the "pretty boys" may be happy to oblige, next time they meet Clarke in any of the events.
"I want to see Daenerys and her three dragons share the throne. Eat goat they've barbecued. And bring back all the pretty boys, get them to take their trousers down, and be like, 'I'm now the queen of everything! I'd like close-ups of all the boys' penises, please,'" Clarke told Glamour.
Clarke also joked about the symmetry of her breasts, which she said by cutting short a question by Glamour about the asymmetry in female to male nudity in the HBO TV series. The magazine asked why was it that in a show where there is an abundance of women's bottoms, breasts and occasional vagina, no one ever came to see Khal Drogo's (Jason Momoa) penis. Clarke's reply was absolutely stunning.
"Oh, I did. I saw his member, but it was covered in a pink fluffy sock. Showing it would make people feel bad. It's too fabulous. No, I don't know why. But I'd like to bring your memory back to Mr Michiel Huisman [Khaleesi's love interest in seasons four and five] and I copulating for the first time, which began with me saying, 'Take off your clothes,' and then you got to see his perfect bottom," Clarke quipped.
Clarke was next asked about the show's depiction of rape and what she felt when Khal Drogo raped Khaleesi after their wedding. Clarke pointed out that the rape part was in George R.R. Martin's book, and hence it was shown in the TV series, too. However, she also said that the consensual sex that followed was genius.
"She is physically saying, 'You can't rape me again. I'm going to be in control and show you something you've never seen before.' At the heart of it, we're telling a story; you need that part of the story to feel empathy for Daenerys. You see her attacked by her brother, raped by her husband, and then going, 'F--- all of you, I'm gonna rule the world,'" Clarke added.
"Game of Thrones" Season 6 returns April 24. It will premiere April 25 on showcase on Foxtel Australia.
MEET IBT NEWS FROM BELOW CHANNELS