'Final Fantasy 15' Episode Gladiolus DLC update: Gladio vs Gilgamesh fight, beating Dread Behemoth, rewards & more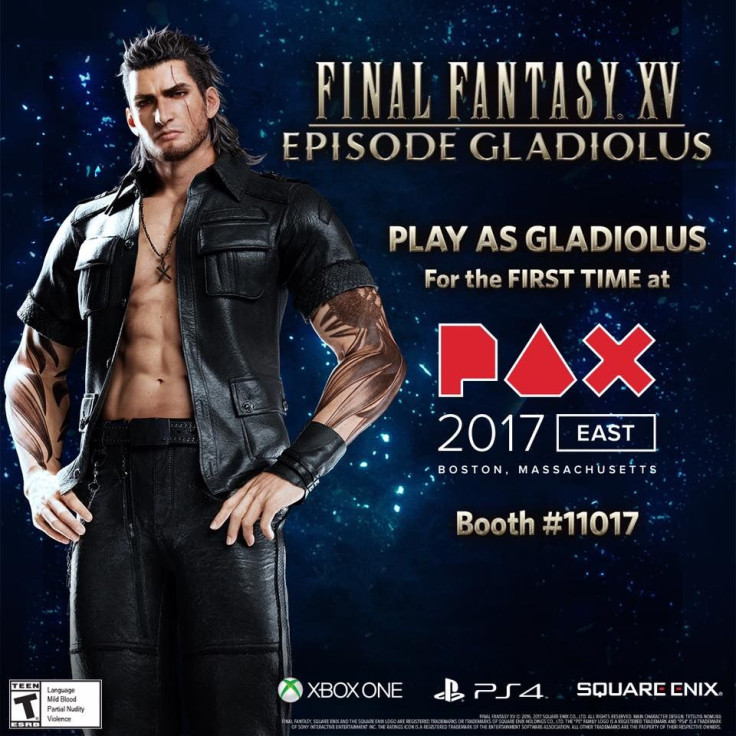 Square Enix has released the official trailer for "Final Fantasy 15" Episode Gladiolus. Fans have been surprised to see that the classic series' enemy now has a new look. The Boss seems to be having only one arm instead of multiple arms, as previously sported. Gladio will go after villain Gilgamesh and will become more powerful in the first DLC episode.
According to IGN, the DLC episode is set after the group clashes against Ravus. Gladiolus will be training with Cor after he goes away from the group to become more powerful. The DLC will be out on March 28. Players are really upbeat about the game as for the first time, players will be able to control a party member apart from Noctis. More "FFXV" DLC packs are reportedly on the way with playable Ignis and Prompto. A co-op multiplayer expansion is also believed to be on the way.
Meanwhile, the game's timed quest has already started and there are rewards to be won for beating Dread Behemoth, writes PlayStation Universe. Players have until March 20 to track Behemoth down. The level is extremely tough as it's a level 140 Boss fight. Behemoth is not to lose easily and he puts up an amazing fight in Northeast of Longwythe Peak and due South of The Three Valleys. Players can expect 30,000 XP, 999 AP and 1.2 million Gil. A "Final Fantasy 15" player has uploaded a video on YouTube, clearly explaining how to beat Behemoth.
The video is titled Final Fantasy XV | Dread Behemoth | Level 140. Boss Fight | The New Hardest Boss on FFXV! According to TechnoBuffalo, the first chapter of the "FFXV" Episode Gladiolus will take players about 2-3 hours. The time includes time taken to learn all of Gladiolus' new fighting techniques. While this DLC launches on Xbox One and PS4 on March 28, the next chapter, the Prompto DLC could be released sometime in June. The shared footage of the Gladiolus DLC provides information on Gladiolus' goals in his solo campaign.
Meanwhile, there is also a "Final Fantasy 15" update planned for this month that will include enhancements to Chapter 13. The developer has added a separate route for Gladio and Ignis after they separate from Noctis. Thus, players will be able to play as Gladiolus and experience what happened on the other side of things until they reunited with Noctis, said producer Haruyoshi Sawatari during an interview with Game Informer.
MEET IBT NEWS FROM BELOW CHANNELS