EU-Cuba deal raises similar concerns as US-Cuba deal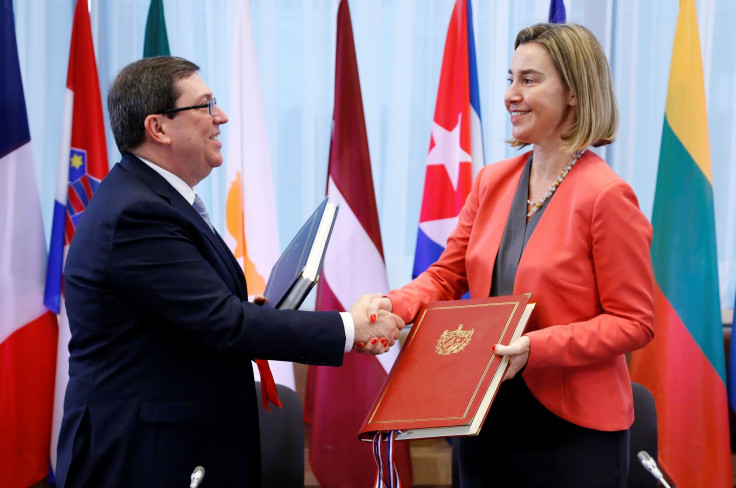 The European Union has signed a deal with Cuba on political dialogue and cooperation on Monday in Brussels. The EU-Cuba deal, signed by Cuban Foreign Minister Bruno Rodriguez and the EU foreign policy chief Federica Mogherini, is expected to enhance trade, travel as well as diplomatic ties between the Caribbean island and the 28-country bloc.
"The aim of the (agreement) is to create a more predictable and transparent atmosphere for economic operators and increase their economic capacity to produce, trade and create jobs," read a statement from the EU. "The EU advocates diversification of exports from Cuba beyond the traditional products, and cooperates to disseminate the necessary knowledge among Cuban exporters to improve the access of goods onto the EU market."
What has delayed EU-Cuba deal
Until now, Cuba was the only Latin American country to be lacking such an agreement. In order to reach the deal, EU repealed its 1996 policy, which stated that Cuba must improve its human rights conditions and change one-party political system before normalisation talks with the EU. However, the EU will continue urging Cuba to make these changes.
EU-Cuba shadows US-Cuba agreement
According to the critics, the EU has made a similar decision as the one US President Barack Obama made in 2014 when he decided to re-establish diplomatic relations with the Caribbean island. While the White House argued at that time that economic independence will allow the people of Cuba to demand political changes, critics on the other side said that unilateral concessions to Cuban President Raúl Castro would only give him more power. Many have argued that when Cuba did not listen to the US, it is unlikely that it would abide by the terms with the EU.
Trump's warning to terminate US-Cuba deal
US President-elect Donald Trump has threatened that he would terminate the US-Cuba deal if the island wouldn't offer a "better deal." He said that the US has not received anything in return. He vowed to craft a new deal that will put Cuba under conditions, which, if not agreed, will not normalise relations between the US and Cuba.
MEET IBT NEWS FROM BELOW CHANNELS