Dr Oz: Jorge Cruise's Carb Cycling Diet is Good for Weight Loss
The Diet Balances Hormones, Prevents Fibroids and Increases Metabolism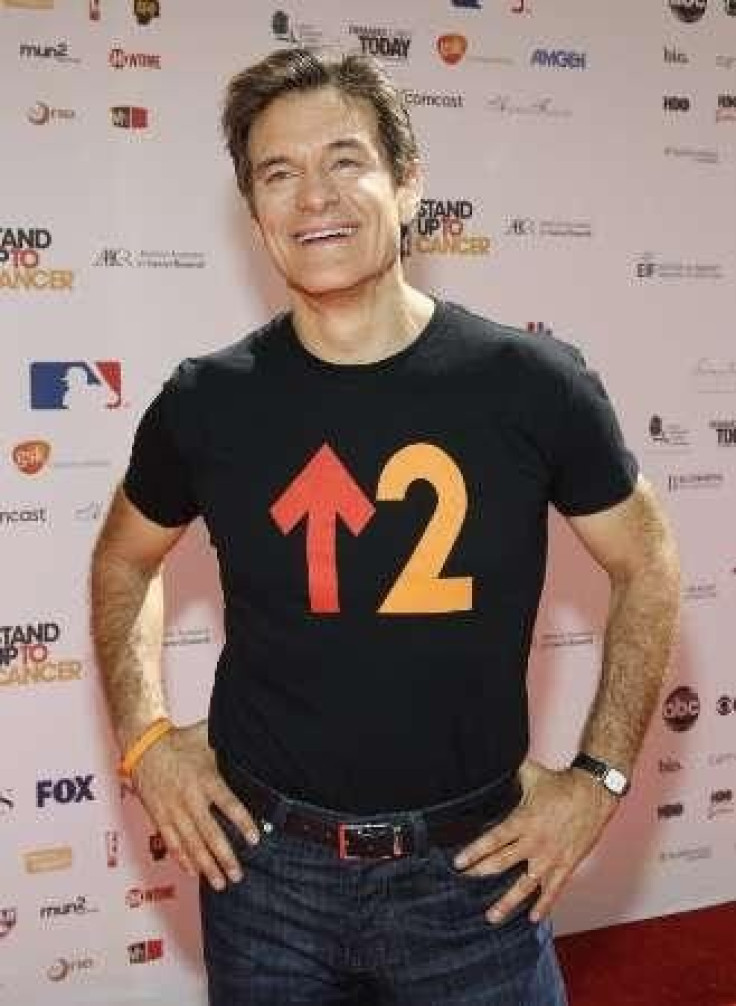 Dr. Mehmet Oz on his talk show on July 24, discussed the treatment option for 'Fibroids' the most prevalent health concern for women. He was also joined by Jorge Cruise the weight loss expert who spoke about carb cycling diets.
Almost 50 per cent of the women suffer from fibroids. Although these are not malignant, they can cause discomfort, bleeding along with pain. With simple dietary changes or hormone therapy women can avoid going in for surgery, a new research has shown.
According to the Standard American Diet (SAD) foods low on the GI scale that keep fibroids at bay include leafy green vegetables, milk and eggs. Keeping a check on weight will help as well. Foods like White Bread, French Fries, Doughnuts and instant White Rice rank high on the glycemic index (GI) and cause tumour growth as they increase the concentration of insulin growth factor 1 (IGF-1). Obesity also is a contributing factor.
The distinguished author of 'The 100: Count Only Sugar Calories and Lose Up to 18 Lbs. in 2 weeks' Jorge Cruise shared, that it is very necessary that people of different age groups choose the right carbohydrates and diet which helps in weight reduction.
In his book "Happy Hormones, Slim Belly: Over 40? Lose 7 lbs. the First Week, and Then 2 lbs. Weekly", for middle-aged women, Jorge states that following a low carb diet along with limited intake of sugar for two days and a consecutive increase of carbohydrates for the next five days balances hormones and increases weight loss. A person can lose 7 pounds in 7 days and 2 pounds every week by following this diet.
However the carb cycling diet does not appeal to all diet experts. According to them it is beneficial to people older than 40. Celebrity trainers Heidi and Chris Powell use this diet for both teenagers and the middle aged, which has given them good results.
Both Heidi and Jorge agree that omitting sugar and white flour is very crucial to the success of the diet. The body does not feel deprived when you alternate between low and high carb days, it also increases metabolism leading to weight loss, said Powell.
Jorge added that carbohydrates give women a surge in serotonin that balances the hormones, makes you happy and helps in weight loss. He recommended a consumption of 100 sugar calories on low carb days and not more than 500 sugar calories on high carb days. Also stating that one must include low carb flours like coconut flour, almond flour and flax-seed flour instead of the regular flour in their diet.
Dr. Oz said that this diet is very beneficial to women in their late 30's and above as it helps in balancing their hormones. This is the age when hormones surge, both during the period of menopause and the 15 years prior to it. Dr. Oz pointed that a diet low in glycemic index eases symptoms of fibroids and can avoid surgery.
MEET IBT NEWS FROM BELOW CHANNELS