'Doctor Who': Russell T Davies responds to 'magnificent' Christopher Eccleston's comments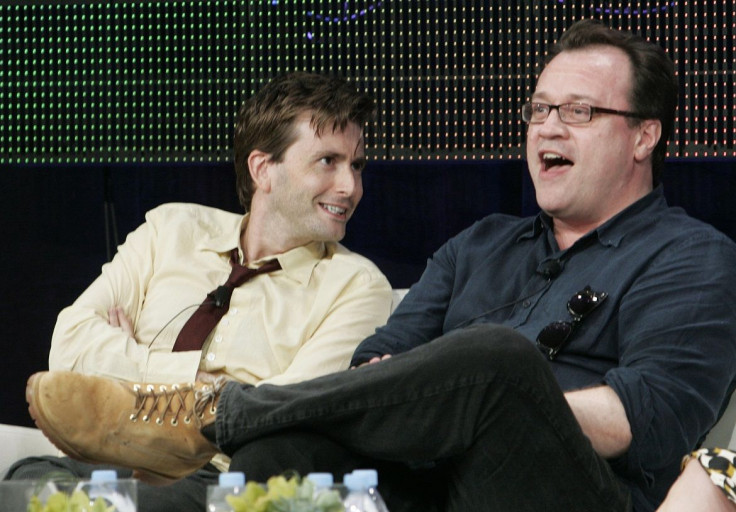 Russell T Davies has finally responded to Christopher Eccleston's criticism on his superiors on "Doctor Who." The former showrunner refused to get into "tit for tat" with the British actor, only saying he wanted to keep "respecting and listening to him at all times."
In March, Eccleston, who played the titular character for one season when the show was rebooted in 2005, finally gave his clearest reason why he left the show to date. He had been dropping hints for years, but never fully revealing why.
"My relationship with my three immediate superiors — the showrunner, the producer and co-producer — broke down irreparably during the first block of filming and it never recovered," he told Radio Times. He continued he had "lost faith and trust and belief in them," adding that he would never have a working relationship with Davies again.
"If you're the showrunner, you know everything. That's your job," Eccleston said.
In an interview with SFX Magazine (via Radio Times), Davies responded to the actor's comments, though refusing to disparage him by giving more details about what had set them off.
"What has to be remembered when the show's being discussed in the present tense, now, is that I was his employer — I was his producer. I have a duty of care towards any lead actor I work with, so I have a duty of care towards Chris in that moment," he said. "He's free to say and explore whatever he wants — that's fine. This duty of care involves respecting him and listening to him at all times.
"That's my job. And that duty of care towards him will extend for the rest of our lives. He will always be my Doctor, and I will always be his producer."
Davies even commended Eccleston for taking the "brave move" of accepting the role in 2005. "The thing I've got to say is that Chris is a magnificent actor and a magnificent man — he's truly a leader of men — and he was a magnificent Doctor Who as well," he said.
On Eccleston's comment that some of his anger about the situation came from his own insecurity to do the role when he was not a "natural light comedian," Davies begged to differ. The producer thought Eccleston played the comedy "brilliantly."
"It's a magnificent, never-to-be forgotten Doctor, and it was an honour to work with an actor delivering a performance like that," he said.
After Eccleston's departure, David Tennant went on to play the titular role in "Doctor Who." Davies was the showrunner until 2010.
"Doctor Who" series 11 will return in October with new and first ever female Doctor "Jodie Whittaker." Chris Chibnall is now the head writer.
MEET IBT NEWS FROM BELOW CHANNELS