'The Division' May Season Pass content drops, update 1.2 features, double Phoenix Credits and more teased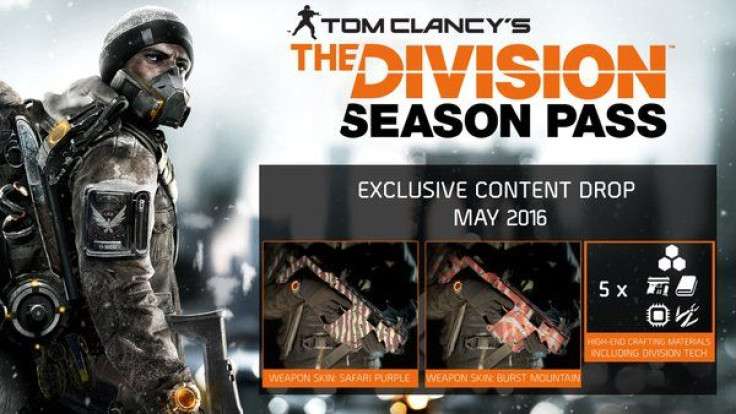 Ubisoft has announced that all players of "The Division" can look forward to the exclusive Season Pass content drop coming for the month of May. The content items have already been dropped on all platforms.
Announced over the official "The Division" Twitter, the drop includes the Safari Purple and Burse Mountain weapon skins, as well as five times the high-end crafting materials. The latter inclusion also includes Division tech.
On Twitter, not all fans are excited about the announcement. Due to the bugs, there has been a disconnect with players, as exploits and game-breaking bugs have made the Dark Zone unplayable for some fans.
Ubisoft did promise that some changes are expected with Update 1.2. VG 247 spotted a video from Arekkz Gaming, seen below. Here, he talks a little about the changes that will arrive, including the doubled cap for Phoenix Credits.
According to the source, players can now grind for and store up to 2,000 Phoenix Credits, which is double the amount from before. Players should not expect any new updates or tweaks with weapons, as Massive Entertainment is trying a new approach with the update.
But it seems that the developer may only be gearing up to change weapons in another following update. This patch will supposedly be all about weapons, so it is possible that the developer will observe what happens with weapon-use after update 1.2 before moving on to deliver a new update.
Whether these factors affect the player base of "The Division" remains to be seen. An earlier report sighted "The Division" to have a steep decrease in player base as per the Steam count. However, the latest fiscal 2016 financial report from Ubisoft saw a huge base with 9.5 million registered player account, Venture Beat reported
The report continues that of the recorded number of people who were playing a month ago, 91 percent were still playing. Furthermore, the season pass has an attach rate of 20 percent. These figures and performances exceeded expectations of Ubisoft.
Still, with the new bugs in the game, some players retain the frame of mind that "The Division" is still broken. The update 1.2 may be a chance to turn things around for the game's rep and for players' experience.
"The Division" update 1.2 details (Credit: YouTube/Arekkz Gaming)
MEET IBT NEWS FROM BELOW CHANNELS