'The Division' Conflict update release date and trailer revealed, will include new Incursion and intense extractions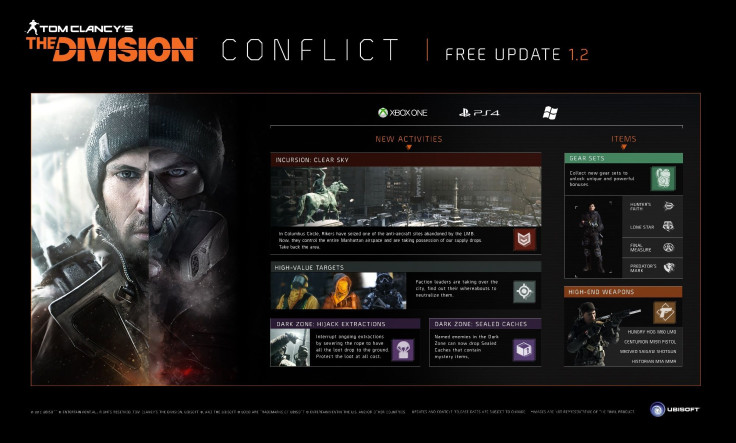 Ubisoft has released some new details for the upcoming Update 1.2 for "The Division." Dubbed as the Conflict update, it will be the second of the two free updates expected for the game.
In less than a week, players will finally get their hands on the update, as it will debut on May 24 on the PS4, Xbox One and PC platforms. There are three main features coming with the Conflict update, as announced by the developer on the official website.
The first is the Clear Sky Incursion in Columbus Circle. This will let Division Agents face off against Rikers, with the goal of taking back an anti-air missile site, clear the Manhattan sky for passage and take back stolen supply drops.
The Conflict Update will also include high-value targets. Players will be given a list of targets, complete with level, recommended gear score and description to make easier engagement. This is a time-limited activity, and to up to the ante, it's a one-chance takedown.
To invite "The Division" players back into Dark Zone, Ubisoft is also adding some challenges to extractions. Now Agents can hijack the player's loot, which makes even the last minute of the extraction even more crucial.
There will also be some new gear for players to enjoy. The splash image, seen above, s shows a few more details for the Conflict update. High-end weapons like the Hungry Hog M60 LMG, the Centurion M1911 Pistol, the Medved Saiga12 Shotgun and the Historian M1A MMR will be available. More details can be found in this "The Division" update 1.2 trailer, seen below.
"The Division" Conflict update will be released on May 24. After that, players can look forward to the Underground, Survival and Last Stand expansions, GameSpot reported. These, however, will no longer be free DLCs, though the developer has not yet released any details.
"The Division" update 1.2 trailer (Credit: YouTube/Ubisoft US)
MEET IBT NEWS FROM BELOW CHANNELS