'The Defenders' Update: Five things to know about Marvel and Netflix's new trailer featuring superheroes 'Daredevil,' 'Jessica Jones,' 'Luke Cage' and 'Iron Fist' [WATCH VIDEO]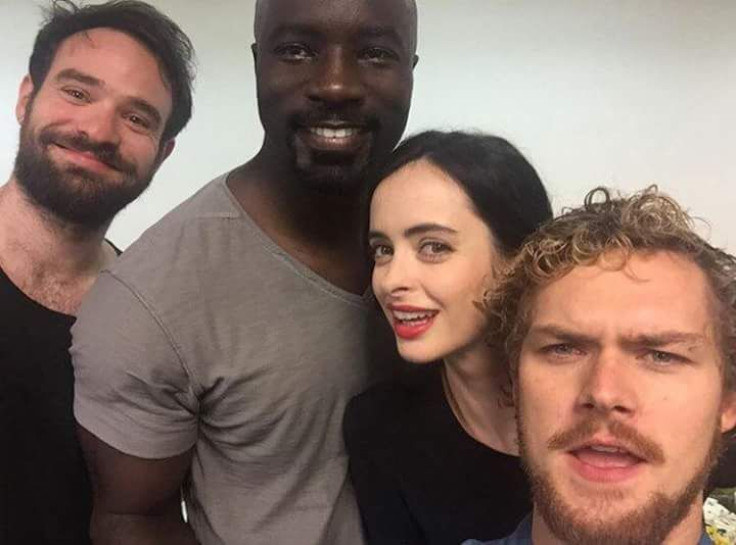 "The Defenders" trailer featuring "Daredevil" (Charlie Cox), "Jessica Jones" (Krysten Ritter), "Luke Cage" (Mike Colter) and "Iron Fist" (Finn Jones) has finally been released by Marvel and Netflix. It was posted on the Netflix US and Canada's official YouTube channel on Wednesday. Read on to learn more about it.
Spoiler alert: This update contains more 'The Defenders' spoilers. Read on if you want to know more about the upcoming Netflix original miniseries.
Five things to know about Marvel and Netflix's new 'The Defenders' trailer:
1. Jessica Jones meets Matt Murdock / Daredevil.
The new "The Defenders" trailer shows Jones and Murdock's first meeting. Despite both being in New York City, the two superheroes haven't officially met, until now. The scene in the trailer shows Jones getting arrested for stealing evidence from a crime scene and interrupting a city-wide investigation. As she's explaining her actions, Murdock tells her to stop talking and introduces himself as his attorney.
2. Claire Temple introduces Luke Cage to Iron Fist.
Temple (Rosario Dawson), who is the common denominator of the four superheroes and has appeared in "Daredevil," "Luke Cage," "Iron Fist" and "Jessica Jones," will also be seen in "The Defenders." In fact, she will introduce Luke to Danny Rand / Iron Fist.
"I'm the Immortal Iron Fist," Danny tells Luke.
"'You're what?" Luke asks incredulously.
Temple tells the two that they're both on the same side. It's also interesting to see Luke Cage, the superhero with unbreakable skin and super strength, get hit by the power of the Iron Fist.
3. Sigourney Weaver appears as 'The Defenders' villain Alexandra.
Weaver will be part of "The Defenders" and she portrays the character of Alexandra. She will be the villain in the Netflix miniseries that all four superheroes must team up against.
"Sigourney is the kind of person you can buy as the smartest person in the room, who you can also buy as a person holding a flamethrower," Entertainment Weekly (EW) reports "The Defenders" showrunner Marco Ramirez as saying. "She's everything Sigourney is: sophisticated, intellectual, dangerous."
4. Elektra Natchios also comes back to help Matt, Jessica, Luke and Danny fight Alexandra and her thugs.
Elektra (Élodie Yung) will aid the four superheroes in a huge battle in New York City. In "Daredevil" Season 2, episode 13 "A Cold Day in Hell's Kitchen," which aired on March 18, 2016, Elektra was seen sacrificing herself to save Matt. Matt is shown mourning her death. However, towards the end of the episode, The Hand exhumed her body and placed her in an ancient device. A heartbeat was heard, suggesting that Elektra is still alive.
5. 'The Defenders' trailer has already been viewed over 3 million times.
The new Netflix trailer featuring the four superheroes teaming up has already been viewed on YouTube 3,073,973 times, as of this writing. Its background music is a slow rendition of "Come As You Are" by Nirvana. Over 120,000 people gave it a thumbs up, while over 1,000 people disliked it. Check out some of the comments below from the viewers of "The Defenders" trailer.
"A blind lawyer, a drunk detective, an ex cop/ convict, and a businessman team up against Ellen Ripley. I Dig it!" colin2000e wrote in the comments section of YouTube.
"I love how every defender has taken out people in hallways and now this trailer showed a scene of all of them in a hallway," Codex2112 commented.
"I think this show will redeem Iron Fist as a character," jake27990 said. "Totally different writers and directors on this series than his solo series. In just this trailer alone he already comes across as much better written and with much better fighting scenes."
"The Defenders" TV show will be released on Aug. 18, 2017. It will have a total of eight episodes and will be aired on Netflix.
Watch: Marvel's 'The Defenders' | Official Trailer [HD] | Netflix
Source: Netflix US & Canada/YouTube
It's going down 8/18. #DEFEND pic.twitter.com/ALzi0WdELY

— The Defenders (@TheDefenders) April 4, 2017
The cast of @Marvel's @TheDefenders unite against evil with a little help from a mountain of Pop! from Funko! pic.twitter.com/MFb6Hp83T5

— Funko (@OriginalFunko) April 12, 2017
READ MORE RELATED STORIES:
Marvel's 'The Defenders' video: Daredevil all geared up to hit New York City streets
Marvel's 'The Defenders' has a familiar cast; Sigourney Weaver opens up about her role
MEET IBT NEWS FROM BELOW CHANNELS