Marvel's 'The Defenders' video: Daredevil all geared up to hit New York City streets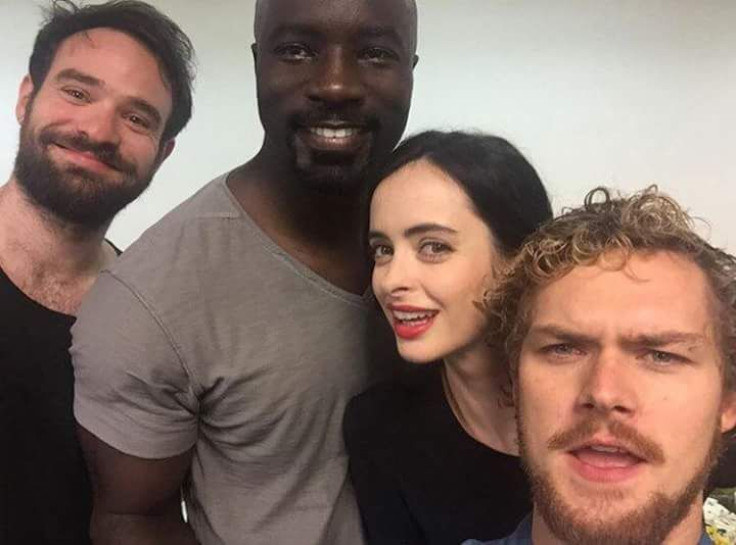 New leaked set video from Marvel's "The Defenders" show Matt Murdock (Charlie Cox) in his full Daredevil costume. The show's entire main cast including Jessica Jones (Krysten Ritter), Luke Cage (Mike Colter), Danny Rand (Finn Jones), Claire Temple (Rosario Dawson) and Collen Wing (Jessica Henwick) were all present on location. Filming apparently seems to have taken place in a NYC building.
As "The Defenders" carries on with production, a new set video made its way to the Internet, revealing the nocturnal vigilante in full gear. The video divulges the team-up chaos as it hit the streets of New York City. The audio in the video was muted, just like in the previous video leaked by the same source last week. Watch the leaked video by ComicCon.News below.
What's in the video?
As narrated by Comic Book, the video features Luke Cage sporting a duffle bag. The contents of the bag remain unknown. Collen Wing can be seen looking at what appears to be a large piece of paper — possibly a blueprint. The exact content of the paper are yet to be known.
After Wing is done going through the contents, she takes the sheet to an elevated surface and is soon surrounded by everyone present. There is commotion and an unexplained air of mystery around everyone. And before realise, police lights start blaring - apparently, it's time the crowd dispersed. The same has been touted by Comic Book as "Classic Vigilantism." The group then returns to their designated spots, only to do the whole thing over again.
'The Defenders' release date
According to IMDb, "The Defenders" season 1 will comprise of eight episodes in total. As of now, release date and other details about the show remain unknown. However, it has been perceived the series will hit TV screens later this year. Also, the show will be available for streaming exclusively on Netflix.
In 2013, Marvel TV head Jeph Loeb, whose brainchild is "The Defenders," talked about his plans of bringing some of Marvel's lesser-known heroes together. "The Defenders didn't have a 'D' on their belt buckles and a Defenders Tower," Loeb had said, per Entertainment Weekly. "We agreed from the very beginning that these folks could at the very end go, 'I never want to see your face again.'" he added.
The upcoming Netflix series follows the story of four solitary figures, burdened with their own personal challenges, who realise they just might be stronger when teamed together. Meanwhile, one of the members' solo-series, "Iron Fist," has just arrived on the streaming network.
MEET IBT NEWS FROM BELOW CHANNELS