Consumers react to KFC Australia's dirty social media ad; short-lived campaign may have done the job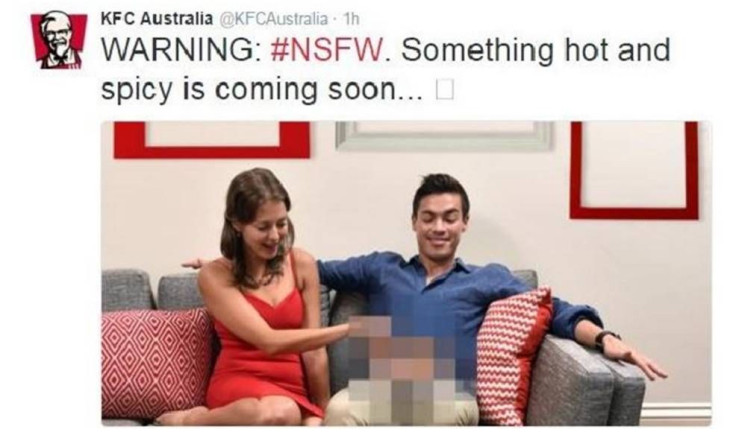 Customers are calling the "now taken down" KFC social media campaign for its Hot & Spicy chicken products "gross" and "disgusting." Some are even highly offended by the ad that KFC Australia posted on Twitter and took down immediately after the ad was labelled "sexist."
However, the job is done and the tweet was retweeted 1,300 times in an hour. The NSFW post has taken Twitter users into a frenzy, with people reacting to the ad in various ways. Many are calling it the most disturbing social media campaign ever.
On Friday morning, KFC Australia posted a cringeworthy photo of a guy relaxing on a couch and grinning, while a girl, sitting beside him, approaches to take the guy's member in her hands and appears to be giving him sexual favours. The photo was pixelated in the region of the guy's member. The caption reads, "WARNING: #NSFW. Something hot and spicy is coming soon."
The photo appeared to be taken from a porn video. Many found the ad to be sexist and one even said that the ad took women back 50 years. Some have also joked that KFC Australia would be requiring a new social media manager after this horrendous campaign.
Nevertheless, KFC has succeeded in getting the attention it so desired for the launch of its new Hot & Spicy chicken products next week. The fast-food chain told News.com.au that the ad was not at all intended to offend and that it has taken down the ad.
Here's how the Twitter kingdom reacted.
Whether good or bad #buzz, job done _ https://t.co/DzHisXA4Xl @KFCAustralia #socialmediamarketing

— Delphine VINCENT (@Delphine_VIN) April 15, 2016
.@KFCAustralia What's big and long with a pair of massive balls? Rundle Mall in #Adelaide of course! Do you get it? https://t.co/roLUa18OJ7

— Andre McGrady (@AndreMcGrady671) April 15, 2016
Here's another reason never to eat at KFC. NSFW or anyone really https://t.co/zCzSpRaQyk

— Asher Wolf (@Asher_Wolf) April 15, 2016
its ok @KFCAustralia i made a backup for you. im sure it was an accident someone deleted the tweet. pic.twitter.com/pRPShkcWjn

— Adam (@Pipstealer_) April 15, 2016
Was it intended to confuse and nauseate? #advertising https://t.co/P6j729hdlf

— Melinda (@MelLiszewski) April 15, 2016
@terryjstamp @CollectiveShout @KFCAustralia that is a good question. I also wonder what else is or was planned for this ad campaign.

— Melinda (@MelLiszewski) April 15, 2016
MEET IBT NEWS FROM BELOW CHANNELS