'Ash vs Evil Dead' season 3 update: Release date; Ashley Williams to return as the 'Chosen One'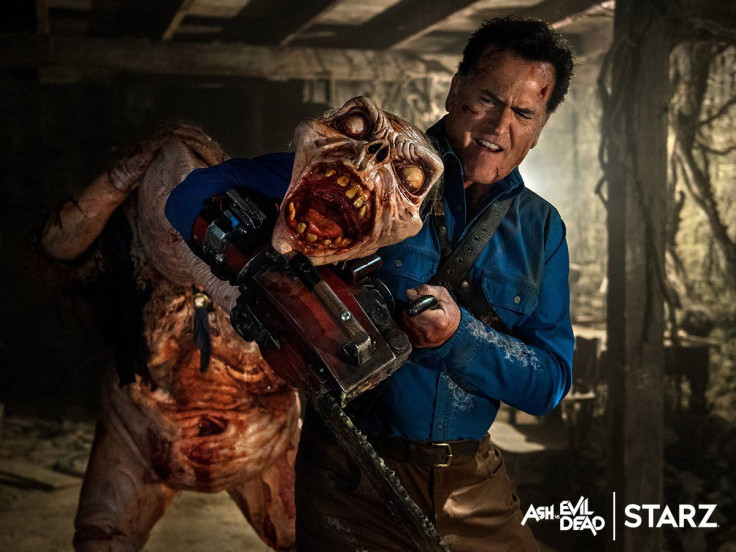 "Ash vs Evil Dead" returns for yet another season of "wise-cracking Deadite-slaying" insanity from Ashley (Bruce Campbell) and co. The Deadities have returned. Will Ashley prove he's the "Chosen One?" So far an official date for the show's release has not been announced yet. However, it is expected that "Ash vs Evil Dead" season 3 returns sometime around Halloween.
Series creator Sam Raimi had in the past hinted at Ash's future. While the previous two seasons were based on the gore depicted in the first two movies of the franchise, the third season, per Raimi, will have Ash as the "Chosen One" — much akin to his "Army of Darkness" counterpart.
Actor Bruce Campbell has since teased that the series' upcoming season will have his character take an epic turn. "I can't say much because we're going to try and do some crazy shit," Campbell said to Entertainment Weekly. "But we're probably going to crack more into Ash' big picture story.
"He is foretold in an ancient book. He's not just some guy in a crappy trailer home," the Campbell said further. "There is a myth to Ash, there is a story, and so we want to explore a little more of that Joseph Campbell, big picture story."
Meanwhile, news is abuzz that Netflix' "Daredevil" producer mark Verheiden will be replacing the series' showrunner, Craig DiGregorio, in the upcoming season. The decision was taken in light of the series' season 2 fallout, which has reportedly been the bone of contention between producer Rob Tapert and DiGregorio. Tapert wanted serious horror while the other fought for comedy.
"He's a great person and producer," DiGregorio opened up to the AV Club in December. "But creatively, we just didn't have the same taste at all. So, that's what led to my decision."
"He owns part of the property and had a lot of creative opinions, but it was my job to creatively steer the show, and so it became a hindrance," the now-former "Ash vs Evil Dead" explained why he's no more in the show. DiGregorio further admitted that he originally planned season 2 end to have ash "[go] back in time and f**k Kelly's mom and become Kelly's dad," inadvertently making himself Kelly's father.
"Ash vs Evil Dead" acts a sequel to the original "Evil Dead" trilogy. The series is set around 30 years after the three "Evil Dead" films. Ashley had returned from the past. He was last seen going back to 1300 AD in "Army of Darkness." Now he now lives in a trailer, moving from town to town. Meanwhile the Deadites have returned, and he is once again burdened with the responsibility of taking up arms against these demons. The comedy-horror TV series by Starz was renewed for a third season in Oct. 7, 2016 at the New York Comic Con.
"Ash vs Evil Dead" season 3 is expected to return by the year's end. The show's previous two seasons can be streamed online on the Stan network in Australia.
MEET IBT NEWS FROM BELOW CHANNELS